if (screen && screen.width < 767) {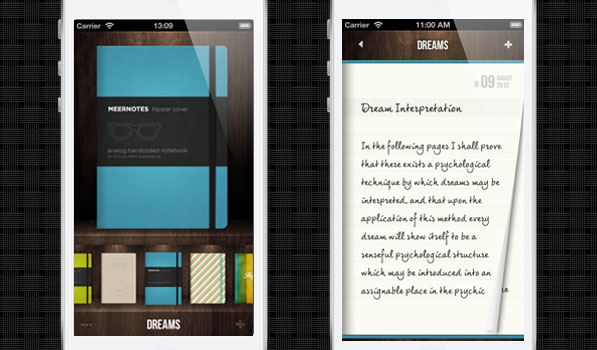 Meernotes 2 — Everything That the Official Moleskin App Should Have Been and More
---
We've previously written about Meernotes little over a year ago and now the latest update brings tons of new functionality and more importantly, more beautiful pixels. Meernotes by Fabulously Retro is another great example of skeuomorphism done right on iOS. This update also brings support for the 4-inch Retina display on the iPhone 5 and iPod touch (5th generation).
Meernotes 2 packs a powerful feature-set in the bundle. The app is full of lovely animations and is mainly gesture driven. Adding images to notebooks is now possible and it also has Camera+ integration. The app also lets you add and customize frames for photos. Each photo takes up an entire page in your notebook. Earlier you could only have a total of 32 pages in each notebook just like the real Moleskin, but Meernotes 2 doesn't have a text or page limitation. Adding pages or images is just a swipe away. Swipe down and you can view the contents of your notebook. Swiping up lets you add a new page or a photo depending on how much you pull the notebook up. Pulling down on the main view of the app brings you to the settings page where you can link your Dropbox or Evernote account and enable or disable iCloud sync. There are 3 different font and cover packs available for $0.99 each via in app purchase, including a nice Hip-Pack that is very similar to covers of real moleskin journals. The app also works near perfectly in landscape mode.
I should note that some gestures in the app don't translate well while using it landscape mode. I had a hard time closing notebooks by swiping down in landscape mode. The update also removes custom tabs from notebooks added in the previous versions, so keep that in mind when you update the app. Meernotes 2 is a pretty big update and if you are a fan of everything retro, it is the app for you. It is a beautiful take on retro note taking and I await the iPad version which is being worked on as you read this review. Meernotes 2 is available on the App Store for $0.99 and is a free update to all existing users.