if (screen && screen.width < 767) {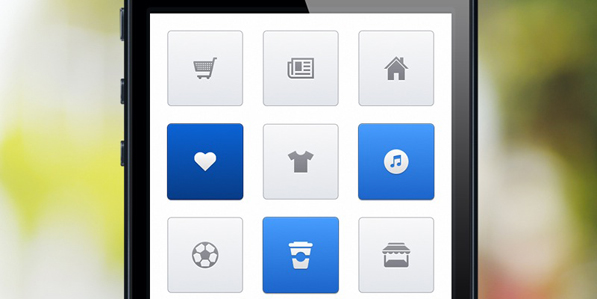 Next is an Extremely Simple and Great Looking Finance Tracker for Your iPhone
---
I've seen some great finance apps release in the last year on iOS. xPence was my favourite for its simplicity and travel mode. There are robust expense tracking suites like MoneyWell that have iOS and Mac apps and others that are for people who just something simple for quick entry with a few statistics. Next by Noidentity is a bold move into making expense apps simpler and more user friendly.
Upon launch, you are greeted with nice buttons with glyphs indicating expense categories and a quick tutorial for the app. Adding an expense is extremely easy. Tap on the category and enter the amount and you're done. You can also change the expense date by tapping Today (which is what it is set to by default) and picking the date. The category buttons turn blue and start getting darker when you add more expenses into them showing you where you spend the most. You can rearrange the categories like you would rearrange apps on your homescreen by tapping and holding. I love sounds in apps and Next has something for every element in the app and before you ask there is a toggle for the sounds in the information page. Swiping to the left brings you to the expenses view which shows you your monthly expenses listed by day. You can delete expenses by swiping each one to the left. Every little pixel in the app has been crafted stunningly and there are subtle animations for everything including an expense entry vanishing. Swiping to the right from the main entry page brings you to the statistics page. The statistics page in particular has some great visual elements in it with lovely animations. You can choose to view expenses by week, month or year. Tapping on a category reveals a great looking graph that is animated. The graph also shows you the mean of your expenses for that category indicated with a light grey dotted line.
I've been using Next for a while now and it is definitely a step in the correct direction. Not everyone wants complicated expense tracking apps that do your taxes and make your bed at night. My only complaints with the app are the inability to add a new category, lack of backup or sync service and the persistent keypad after an expense entry has been made. I was also surprised by the lack of a currency symbol in the app. It assumes you enter all expenses in one currency or do all the calculations elsewhere. Next is a simple app that at its core lets you tag your expenses as indicated by the beautiful icon. It is available on the App Store for $1.99.
[sublimevideo settings="youtube-id:v-igHrgEDz0″ width="597″ height="336″]