if (screen && screen.width < 767) {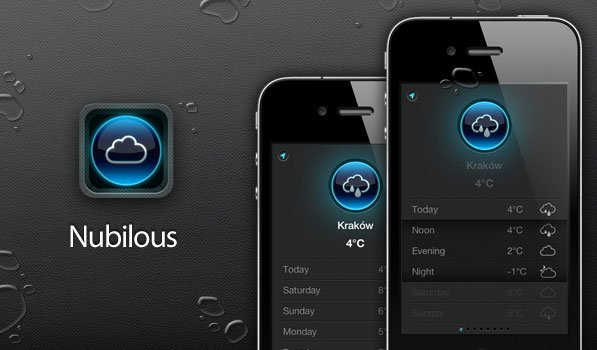 Nubilous — Simple Weather Information on your iPhone
---
Here's a simple yet gorgeously functional app for all of you who like to keep a track of how the weather's going to be over the next few days.
Nubilous helps you glance at the temperatures for you city over the next seven days. It displays a simple list of temperatures and how the weather is going to be for that day of the week. Tapping on each day shows you the temperatures and weather predicted for the Morning, Noon, Evening and Night.
The app automatically geolocates you current city on launch, but you can add multiple cities that you can swipe through, just as you would between your homescreens. Swiping up takes you to the app's settings. Nubilous has a dark-ish color scheme, but goes well with the overall carbon-coated UI of the app.
I love this quote from the app's App Store description:
Reliable forecast based on Scandinavian technology. They're Vikings, they know their job.
Wondering what's the weather on the other side of the planet? Now you'll know.
The developers have tried to keep the app very simple and elegant, and this gives it its own unique character. If I lived in a country where checking your city weather was a routine daily task, I'd definitely download Nubilous — it's FREE on the App Store for today, otherwise the regular price is $1.99.
[Update: The app is priced at $1.99, but is FREE on the App Store today.]