if (screen && screen.width < 767) {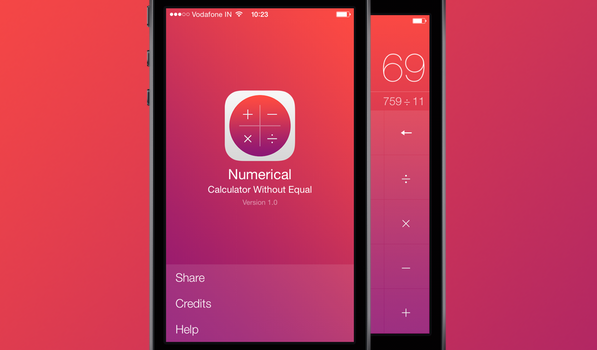 Numerical — A Beautiful Gesture Driven Calculator for iPhone
---
Numerical is a beautiful gesture driven calculator created by Andrew J Clark over at Very Tiny Machines. You might know Andrew from the entertaining podcast he hosts with Zac Cichy – The Menu Bar. The app is dead simple and uses lovely colour gradients throughout. It even has a beautfiul icon that looks gorgeous on the iPhone's homescreen.
On first launch, Numerical greets you with a nice little self-playing tutorial, which shows you how to navigate the app using its gesture driven UI. The app is divided into 3 main views. Each can be accessed by swiping across the number pad. The main view of the app is the calculator. Numerical touts itself as a Caluclator Without Equal. The app displays the result of any caluculation you throw at it in real time. It performs basic calculations fast and also lets you add brackets to your equations in order to make it simpler to understand. While making calculations, swiping from right to left on the result performs an undo and swiping form left to right will perform a redo. You can also swipe up on the result to use it in the current calculation and swipe down on the reuslt to save it to the History view.
The History view is where all your previous calculations are saved and can be accessed by swiping to the left on the number pad. Tapping on an item in the history view brings that calcualtion back to the main view so that the result can be reused. I really like the sounds used in the app and absolutely love the subtle colour changes that take place on the number pad to show you if a certain key can be tapped or not. If Numerical encounters a calculation error, it deosn't throw an abrupt meaningless error, instead, the app gives you a short description of why the calcualtion failed. Numerical lets you copy paste results to and from the app which I found really useful while using the app. There's also a Credits section to the right of the main view where you can view more about the developer and even get additional help.
The downside of Numerical is that it currently doesn't support complex mathematical functions. For someone who's looking for a simple and elegant calculator app that fits iOS 7's design language, Numerical is a superb choice. You can get it on the App Store for $2.99.