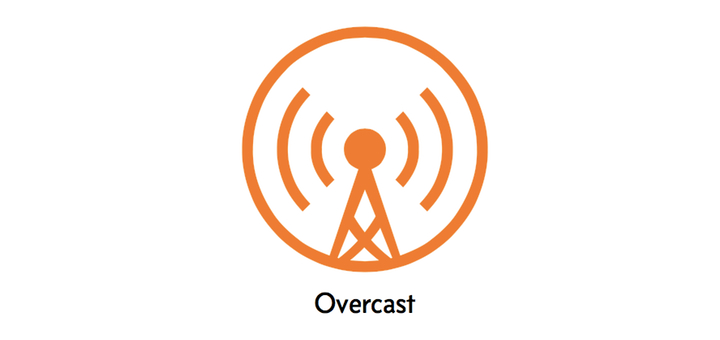 I've been listening to podcasts for a little over 2 years now and I've jumped between quite a few apps recently. After iOS 7 released, I settled on Pocket Casts as my podcast client of choice but recently, I switched over to Castro. I made the switch because I loved Castro's animations and the app icon. I also realised that I only listened to podcasts on my iPhone so I didn't really need an iPad app. Yesterday, Marco Arment's Overcast released on the App Store and I decided to give it a try. The app has some unique features and some brilliant design details that I believe make it a solid 1.0 release.
Overcast uses a visually pleasing font and an attractive orange colour for indicating button controls. On first launch, the app prompts you to create and Overcast Sync account for free. Overcast Sync is useful only with the web player for now. The first thing you'll notice in Overcast is that the toolbar is placed on top instead of at the bottom. This will seem very obvious when you realise that the mini player is displayed at the bottom in all screens of the app. I absolutely love how Overcast lets you import your podcast subscriptions from another app. The process of switching to another podcast app has never been so seamless for me. Of course, you can still add podcasts manually or by searching through Overcast's podcast directory. Here, the app presents you with recommendations based on categories or recommendations from the people you follow on Twitter. The latter is definitely an innovative way of discovering podcasts and makes a lot of sense to me.
The Home view of the app displays a straightforward list of all your subscribed podcasts and playlists. Overcast lets you create new playlists and filter them based on some interesting criteria such as selecting priority podcasts, excluding episodes, adding additional episodes and selections based on Play Status. Overcast supports background downloads and notifications. So the app will automatically download podcasts episodes and alert you when they are ready to play. Overcast's Now Playing screen has a feature I'm absolutely in love with; the progress bar does not start at the edge of the screen, instead, it starts a few pixels ahead, making it much easier to scrub through an episode. Scrubbing through progress bars in podcast apps has always been painful and this is a welcome change. Scrolling up on the Now Playing screen causes the podcast artwork to move upwards and reveals the episode's show notes, which is a nice touch. Here you can also mark a podcast as favourite, which will recommended the podcast to your Twitter followers through Overcast.
Overcast comes with two unique features — Smart Speed and Voice Boost (unlockable via an in-app purchase), available in the Now Playing screen of the app. Smart Speed helps you save time by cutting out silent moments and pauses in podcasts. With some amazing podcasts out there, this feature will help you save time and catch up on some great content. Voice Boost increases and normalises the volume so that all shows sound loud, clear and natural. Marco has done a brilliant job here and you can really tell the difference. By accessing in-app settings, you can change the seek interval for seeking forward as well as seeking back. Another detail I quite like here is how Overcast displays the seek interval on the phone lock screen and in the Control Center music widget. These little details in Overcast make me smile and show how much effort the developer has put in.
Currently, Overcast does not offer streaming, but you can always access your podcasts via the web on Overcast.fm. There's also no iPad or Mac version as of now. However, Marco has mentioned that he'd like to develop these versions as well. Overcast is an extremely polished and well made version 1.0 and is available for Free on the App Store. The free version of the app is perfect if you just want to access your favourite podcasts on your iPhone and don't care about power features. But if you really want to unlock the true potential of a solid podcast app, you can make the $4.99 one time in app purchase. I really like Overcast and I'm sure you will too.