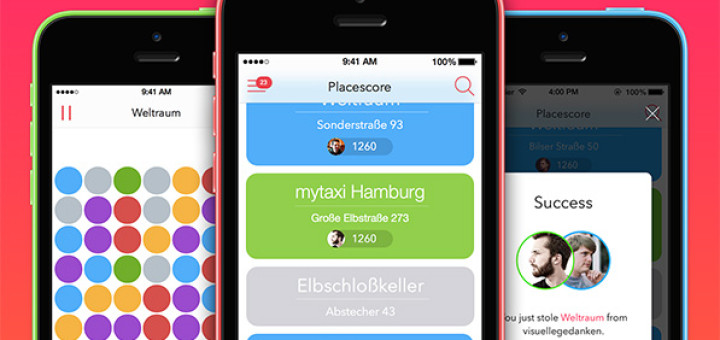 Placescore — Gamify Your Mayorship
---
Foursquare is what most of us use to check in to places, show our love for our favorite restaurants and to become the mayor of the place, hoping to reserve a permanent parking spot. These days, you can do a lot more than just check in to a place with Foursquare. There's reviews and maps and pictures among other things. Placescore is a stripped down version of Foursquare with a slice of gamification.
Placescore is a really simple iPhone app. It uses your GPS to track your location and shows you the nearest attractions, courtesy of Foursquare. Pick the one you like and up pops a game. It's a really simple dots based game. All you have to do is align three dots with the same color to gain some points. If you break the previously held record for a given place, you become the owner. You can connect with your friends via social networks and get notifications of their latest conquests. There's also in-app purchases for special power ups during the game.
That's it. It's the simplest version of Foursquare I've ever seen. The app is minimally designed, and the game works perfectly well. If you are tired of just walking into a cafe a couple of times and being crowned the mayor and want to add some spice in your life, take a look at Placescore. There's something exciting about beating a high score some totally unknown person made sitting in the same place. Placescore is available Free on the App Store.