if (screen && screen.width < 767) {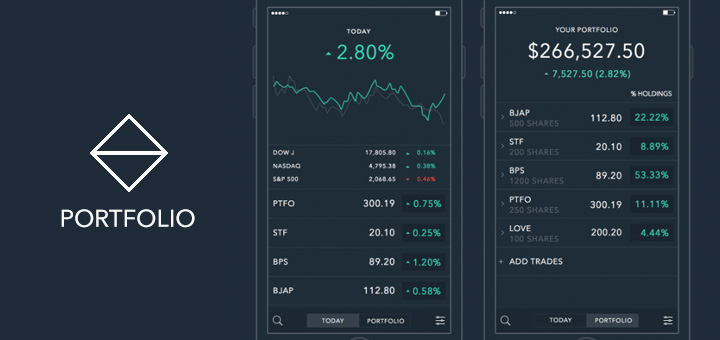 Portfolio — Keep Track of your Stocks
---
Portfolio is a gorgeously simple iPhone app that helps you keep track of your stocks. It features a minimally designed layout that puts the focus on text and graphs, so that you can just take a peek at it and see all the relevant information you're looking for. Although simple in its appearance, Portfolio packs a punch when it comes to features. It comes loaded with a host of different features that help you monitor the stocks that you actually care about.
Portfolio includes real-time stock tickers and charts, so the data that you see in the app is (almost) always up-to-date. You can track the companies that you own stock of by adding data like number of shares, the price you bought the stock at and optionally, the date. Once added, Portfolio will keep track of this and give you an easy way to glimpse not just at how you're doing, but will also report percent gain, dollar gain and portfolio composition. The app also includes support for over 20,000 mutual funds.
The app also supports Push Notifications, so it'll remind you when there's something relevant you should look at. You can get a single push notification with a summary of what happened when the market closes for the day as well as get notified when the next earnings call for your favorite company is. Portfolio also reminds you when actual earnings are released.
Portfolio is a really awesome way to keep track of your stocks, and it makes it so easy to do so. It doesn't require an account, so none of your personal data is ever shared with anyone. You can get it Free on the App Store.