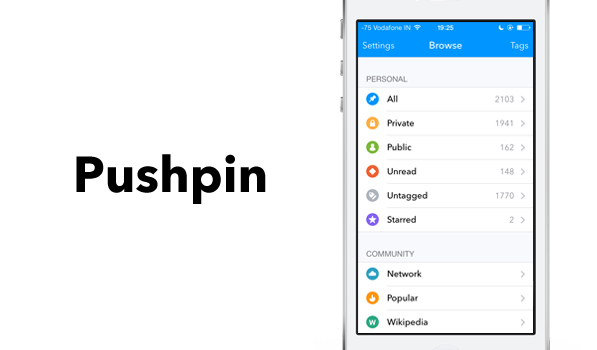 Pushpin is the reason I signed up for Pinboard. It looked great on iOS 6 on iPhone, and at that time was lacking a bit on iPad. After iOS 7 shipped, I've moved onto using Pinner and Pinswift. Pinswift being my favourite pinboard app for iPhone. Pushpin finally got a huge update and is now at 3.0.1. Pushpin's update not only brings the fresh coat of paint it desperately needed, but it also brings a wealth of new features and finally introduces a split pane interface for the iPad. Pushpin 3 was designed and developed by Dan Loewenherz with the icon and interface design by The Iconfactory.
Pushpin now sports a flat look with colour coded navigation bars based on the section you're viewing and thinner fonts to feel more at home on the OS. The lovely pull to refresh animation is still there. The sidebar or main list view for the app has all the bookmark sections grouped by Personal and Community. Each section has its own coloured icon next to it and these colours are also used in the navigation bar on top in the individual sections, making it easy to remember which section you're in based on color. Bookmarks slide up and have a slight bounce animation to them. I love having the ability to edit and delete bookmarks by swiping to the right or left. Editing is now a breeze.
Pushpin 3 also has a full featured search by all, title, description, tag or full text, if you're an archival subscriber to Pinboard. Search is fast and great to have. The in-app browser has a nice tool bar that allows you to quickly switch to mobilizer, edit the bookmark or share it to a variety of apps like Pocket, Riposte and Felix. The in-app settings have specific advanced settings for dealing with clipboard detection, autocorrection to text during editing and browsing.
Pushpin 3 is a great and free update to an otherwise near perfect Pinboard client for iOS. The dual pane layout for iPad was a welcome addition and the new look feels right. If you're looking for a fully featured and elegant Pinboard client for iOS, look no further. Pushpin is available on the App Store as a universal app for just $9.99.