if (screen && screen.width < 767) {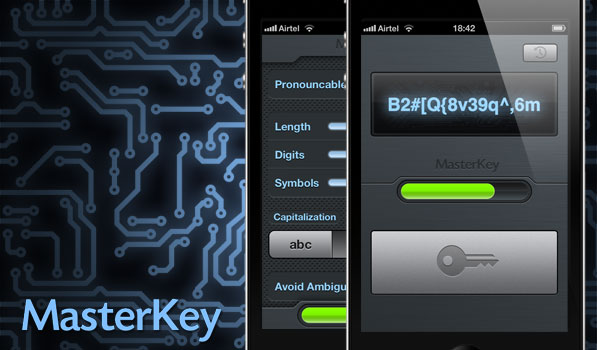 Quick, One-Tap Password Generation with MasterKey
---
Having a secure password for your various accounts and profiles on the web is one of the most basic and most important guidelines. Yes, many blatantly ignore or avoid this step. There are already many solutions available on the App Store that let you have better and secure control over your password habits, 1Password arguably being the most widely known app. But when you're merely looking for quick access to a secure password generator app, apps like MasterKey are helpful.
MasterKey comes to the App Store with one basic goal — to give you the quickest access to a secure password that you can then use on websites. The giant grey key quickly generates a random password string for you, tapping which automatically copies it to the clipboard and saves it to the app's history. The app maintains a history of all password it generates and you can even add notes to them. A green indicator in the center tells you the strength of the password and MasterKey lets you customize the settings like the length of the password, no. of digits and symbols to be used, the capitalization and whether it it pronounceable or not. The app also boasts other nifty features including iCloud syncing, Shake to generate and even has a code lock.
MasterKey has a neat grey-blue color scheme and its very own custom style to the on/off buttons. Mechanical sounds add to the UX of the app, but get boring after a while. The app is available for $1.99 on the App Store and while it is a universal app, the iPad version is just a blown up version of the iPhone UI.