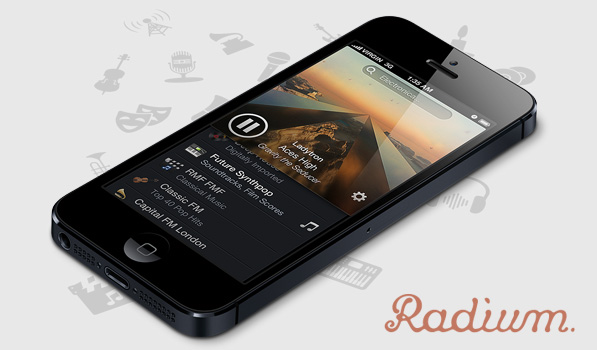 Our favorite internet radio player on the Mac, Radium, has just made its way to iOS as well now. Available today on the App Store, Radium takes everything that was great in the recently released Mac app and brings it to your iPhone. The app has been beautifully designed and gives you access to over 8000 stations right at your fingertips.
A few minutes through the app is enough to make you fall in love with it. The animations & transitions built into the app are slick, and score high points with us. Radium for iPhone makes it super handy to maintain a list of your favorite stations and it is just as easy to search for one. The search bar at the top keeps shuffling through example keywords, so you can begin there right away. In the search results, you can tap the heart to mark the station as favorite. Your favorite stations are automatically sync'd via iCloud across your devices. There's a built-in equalizer with presets if you wish to tweak how a station sounds. If you like a currently playing track, you can tap its Artwork to add it to your Wish List. Tapping the Artwork also gives you the option to share it to Twitter, Facebook or via iMessage.
The settings include the option to scrobble your tracks to Last.fm or choose what output is used for the Audio. If you subscribe to services like Digitally Imported or CalmRadio, Radium has you covered. I love the little icons that show up for each of the stations. Radium for iPhone is currently available on the App Store for $1.99.