if (screen && screen.width < 767) {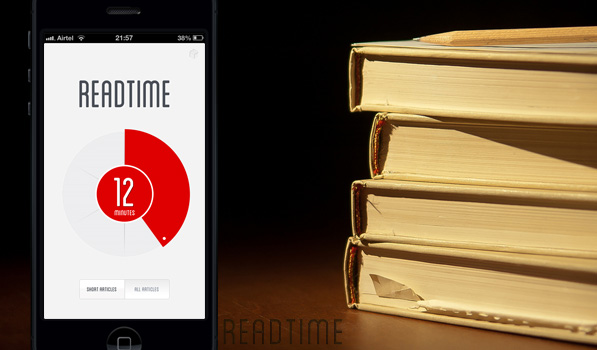 Readtime Helps You Catch Up on your Reading List
---
I'm not particularly fond of reading, I have only ever read two books so far. But I do enjoy reading interesting articles on the web and subscribe to a lot of individual/personal blogs, as it is always great to hear someone's opinion about something I am interested in. I use Pocket as my "read later" service these days as it offers a substantially better experience than its competitors. I love going through my Article Queue on my iPad while I'm lying down on the couch or having that cuppa coffee in the morning. But surprisingly, I never found myself reading anything on my iPhone — until Readtime came along.
Readtime is a very interesting idea that helps you catch up on your reading list. The concept is simple — tell Readtime how much time you can spare to read, may be while traveling or while you're in a long queue & Readtime will serve you articles that you can finish reading during that time.
Readtime integrates with your Pocket or Readability accounts, so you don't have to maintain a separate queue for it. When you launch the app, you're presented with a lovely lookin dial that you use to tell Readtime how many minutes you have to spare. The dial goes from 1 to 30 minutes and is very fluid to work with. Once you're set, tap the button in the middle of the dial and you're served an article from your read later queue. The articles are devoid of any ads or distraction, similar to the read later services. You can enjoy your reading just as you would in Pocket or Readability. At the bottom right, Readtime displays a small circular timer that show you how much time you've spent reading this. Once you've read an article, you can swipe from the right to left to archive it. As you archive, you have another article ready for you. To go back to the dial, tap and hold the circular time and drag it towards the left.
It is unclear how Readtime calculates the amount of time it takes you to read an article, but it works. Sharing options in the app include Email, Twitter, Facebook, 'Open in Safari' or 'Copy Link'. If you tap a hyperlink within an article, you also get the option to save it to your Pocket or Readability queue, depending on which service you're using. Unfortunately, there is no support for Instapaper yet.
Readtime works just as advertised and is a delight to use. The User Interface is very polished and the team at Cogent have done a remarkable job with it. You can grab it from the App Store for $1.99.
[Masthead photo by Chris]