if (screen && screen.width < 767) {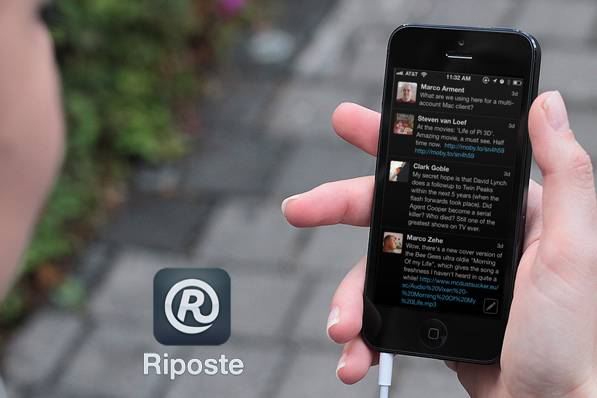 Riposte is a Lovely New App Dot Net Client for Your iPhone
---
I joined App.net in September. For those who don't know (Shame on you), App.net is a paid ad-free social network where you control your data. Since I have joined the network, the quality of apps I have seen come up for it is mind blowing. While many people still consider App.net a paid version of twitter and some apps basically replicate that, I have seen it become much more than that. As much as I would like to have twitter back the way it was, the company and most of the users are stopping that. After joining I have used almost every app for the service on iOS, Mac, Android and even Windows Phone. I found it really funny that the App.net apps on Android that have just been around for a few months are already superior to almost every twitter app on the platform. Apps like Felix, Zephyr, Dash and even Dot Notifications prove how robust the API is and how much developers want to invest into this network.
Riposte for App.net has just released and I have been using it for a while now. I love it. It goes back to the roots of what mobile applications should be. When I use an application on my phone (A normal phone and not a phablet) I'd like to be able to use it with one hand as far as possible. This app was built for single handed use. It looks great and has some nifty features others don't have.
Upon launching the app you are prompted to sign into your App.net account. If you have 1Password 4 installed, the app has a button to launch 1Password 4 to copy your App.net credentials and use them here. If you don't already know, 1Password 4 is my favourite password manager on iOS and Riposte has great integration with it. More on the third party integration a little later. The app launches into full screen mode with your stream and one translucent compose button on the bottom right. There are two main navigation gestures you will have to get used to here. Swiping a post to the left will take you to the detailed view and swiping to the right will slide the stream view to the right and display the main menu for the app. While other apps have a tab bar, Riposte has gone the way of apps like Path and Sparrow for navigation. I absolutely love the icons they have for each setting and button here. You can access your mentions, stream, profile, user search and for the first time in an iOS app, interactions here. Riposte has a detailed interaction view showing users who have followed you recently, replied to your post, starred your posts or reposted your post. Riposte has robust settings. There are font size options for post text and author names. I honestly wish there was a setting for user picture size as well in the stream. The other visual settings are the full screen mode toggle and the dark mode toggle. Dark mode in Riposte is really good. It looks absolutely gorgeous on the black iPhone 5. There is a two finger gesture for toggling this like a light switch on the main timeline as well although I found that a little clunky compared to the rest of the app. One unique feature the app has is the Hide Hop-Ons toggle. While App.net is still in its infancy, everyone enjoys following conversations on the network because right now discussions thrive here. There are some users who hijack threads out of laziness (I have done this a few times myself) and the Hide Hop-Ons setting is useful to not show these irrelevant posts in the main conversation thread.
The user account settings offer image upload service settings that include an in house upload service. Riposte has a pixel art setting that enhances your cover image or profile image assuming they are pixel art. This applies only to Riposte users. Along with the aforementioned login 1Password 4 integration, the in app browser also has great integration with it. Assuming you tap on a link in a post to say Facebook, hitting the 1 Password button in the new share sheet will launch the app and do a search for passwords for facebook.com domains. Given iOS' 3rd party app communication restrictions, the URL scheme has been a saviour to many. If you use Buffer, Riposte has you covered with a dedicated buffer button on the compose post window. Speaking of the compose post window, the app also has some nice sliding gestures to move the cursor while typing. A one finger swipe will move one character at a time. Two finger swipes let you move the cursor by words and a three finger swipe will let you move to the beginning or end of a line. You know how people say the little things always matter? Riposte has so many little wonderful things like this that you will discover while using the app.
No App.net app is complete without push notifications. Riposte has detailed push notifications with lovely sounds for mentions, new followers, reposts and stars. I just hope they eventually add better notification control because not everyone likes to be forced notifications for reposts or stars when they just want notifications for mentions. Riposte has multiple account support. While one would expect the option to add accounts to be here, it is surprisingly present only in the main menu underneath the settings.
The profile view in Riposte has everything center aligned with the cover image and profile image on top. Just like almost every App.net app, Riposte features parallax scrolling and zooming on the cover image. There's a translucent button on the top right of every profile page that let's you mention the person whose profile you're on. Riposte also has a nice real time user search that searches through every username and user bio on the network.
Riposte gets tons of stuff right but even it has a few flaws. The lack of Droplr support is a deal breaker for many although they said they would be adding it soon. The lack of private messaging is also a big flaw. Most of us are used to typing the @ symbol and having username autocomplete. Riposte handles this a little differently with you having to tap the @ button on the toolbar above the keyboard to bring up the user search instead which is another minor annoyance. As of the current version it supports saving to Instapaper and Pocket. Readability support is being added. Riposte is a really great and pretty App.net client for iPhone. It is available on the App Store for $4.99.
On a sidenote it is almost crazy how the desktop platforms are being neglected with App.net apps. Wedge has been in a public beta for a long time and that is what everyone uses. Netbot for Mac is nowhere to be found barring very few people using it on and off as per the statistics. While the mobile ecosystem is getting saturated with many great apps, the desktop is being left out. I hope more people notice this and do something about it.
Riposte gets Preshit's seal of approval too for the design, but he says it still has a bright way to go in terms of features.
[Photo Credit: PlaceIt By Breezi]