if (screen && screen.width < 767) {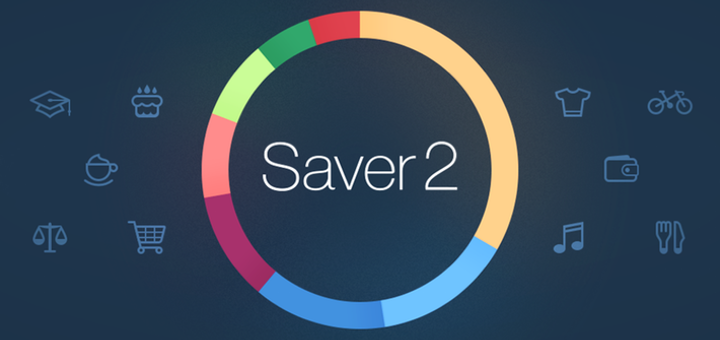 Saver – Beautiful Personal Finance Tracker
---
I was a Saver user for a long time and adored every detail of the app on my iPhone 4S. I loved the app so much that I used it on my iPhone 5s even though it didn't support the fullscreen and the fact that it hadn't been updated in a long time. The main reason I loved Saver so much, besides its great looks, was because of how it simplified expense tracking. After a long really long wait, Saver 2 is finally here and boy is it great. Saver 2 has been completely rewritten and comes with a plethora of new features. The app is still gorgeous and maintains its simplicity.
Saver 2 has a beautiful dark interface and uses some fun colours to communicate various income and expense categories. The app supports several currencies and 12 languages, so you shouldn't have any difficulty with it. Saver 2 still supports the classic '+' button right in the middle of the tab bar. This button lets you choose a category and add a new expense or income with speed and ease. I love the icons and colours used for each of these categories and especially like the new built-in calculator. This immensely useful calculator appears every time you need to enter a new expense or income and is such a thoughtful detail added by the developers. If needed, you can also add new categories (Saver Plus & Pro) through the settings screen of the app.
The app also features gorgeous interactive donut charts that give you an overview of your overall finances over the past weeks. The colours chosen in the chart relate to the category colours. Tapping on each section of the donut chart lets you view more details on your expense or income. Tapping on the list button on the top right in this screen gives you even more details. This drill down method is very useful and has really been thought through. Two of the biggest new features of Saver 2 are Goals and Budgets. Goals can be added from the last tab on the tab bar and help you start saving for that next big purchase. Budgets can be added per category and can really help you divide your expenditures. So you can add a budget of $220 for grocery and $250 for drinking or eating out. Every time you add a new expense in this category it'll get subtracted from your Budget. Budgets have their own little donut charts that show you how you're progressing in each individual category. These are some great inclusions to the app, and if you like detailing your expenses, you'll love these new additions.
Saver 2 supports passwords and Touch ID. The detail put into the animation used in the password screen is definitely worth appreciating. Some other interesting new features in the app are recurring expenses, reminders and locations (Saver Plus and Pro). Saver performs an automatic daily backup and syncs with iCloud as well (Saver Pro).
My biggest gripe with Saver 2 is its lack of support for the iPad. Although the iPad might not be the ideal place to enter expenses, it would be ideal for viewing charts and graphs. As of now, Saver 2 isn't optimised for the iPhone 6, but an update with this change should be coming soon. The app is currently on sale for $2.99 and is definitely worth the price. There's also an in-app purchase for Saver Plus and Pro subscriptions. Apart from some features mentioned above, these subscriptions give you access to great extra features such as unlimited incomes, data export, detailed analytics, custom budget cycles, currency conversion, etc.