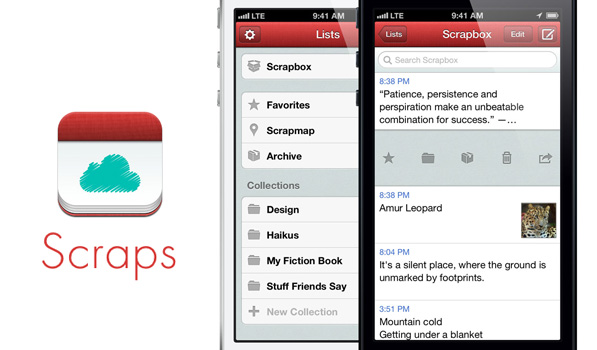 Scraps Helps You Quickly Note Down Your Thoughts
---
Scraps is a wonderful utility app for iPhone that acts as a smart container for your thoughts. It lets you quickly and easily save your thoughts into the app with a few taps, so that you can continue with whatever you were doing. This is very important as more often than not, we often come across random thoughts and later when we're trying to recollect them, it becomes nearly impossible. So Scraps offers an aesthetic interface for you to log your thoughts into the app.
Scraps turned out to be a pretty nifty utility to have in my testing. While primarily it acts as a simple Notes app much like Drafts or Scratch, it does offer quite a few extra features. For one, every entry in the app can be attached with a Photo and/or Location. This makes the app infinitely more useful as you can log the places you've visited and know exactly where that particular thought occurred to you. The compose window and view screen feature a very lovely ruled & torn paper UI that looks great. You can even categorize your thoughts into custom Collections that you create in the app or simply Archive them. Marking thoughts as favorites is also available in the app. If you attach the location to your entries, you can also view a "Scrapmap" of where each was taken. Unfortunately, there is no way to manually name a location — the app just picks it up from the map.
Scraps allows you to password protect access to the app, so your data can stay safe from unwanted eyes. If you have multiple devices, there is iCloud integration as well. My only quibble is the lack of an option to launch directly into the Compose mode. Overall, Scraps is a very nifty app with a lovely UI and costs just $0.99 on the App Store.