if (screen && screen.width < 767) {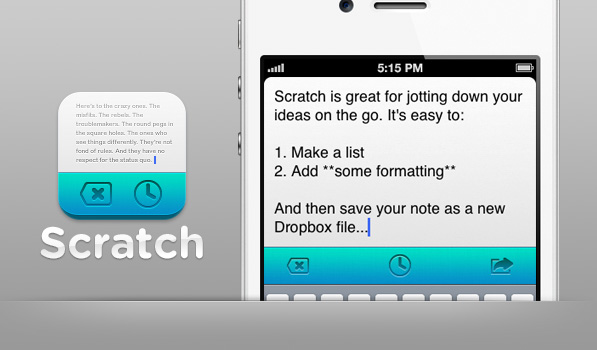 Scratch is a Quick-Input Notepad for your iPhone
---
How many times have you had to take down notes on your iPhone and found that your full-fledged note-taking app was either slow or required a few too many taps to get to the actual screen to type in something? I use Simplenote and often find myself in such a scenario. There are times when I need to quickly jot down something when I'm out & about — not something I want to save forever but just briefly, usually for the rest of the day till I attend to it. This might be a driver's phone number of the registration number of a car that's supposed to pick me up, the model number of my router or HDD of which I need to buy a supply cable or just the list of medicines I need to get for my dad.
Scratch is exactly what I needed for times like these. Scratch is a simple, quick and easy way to enter something on your iPhone. The app has been designed and developed by the folks at Karbon, founded by Garrett Murray & and whom you might know behind the fantastic app Ego. So it isn't really a surprise that Scratch packs some gorgeously shiny pixels with it.
At the core, Scratch is a notepad that is readily available when you launch the app. So it launched directly into the editing mode so you can start typing as soon as you launch it — no extra taps needed. There's support for Markdown built right into the app, so most of you will feel right at home. Once you are done typing, your notes can be exported to Twitter (using iOS 5's Tweet sheet), via email or iMessage and to Dropbox either to a new note or can even be appended to existing notes. That's not it, Scratch can even export just the selected text you have selected.
But what really sets Scratch in its own league is the genius toolbar just above the keyboard. The toolbar has four sections that you can swipe left or right. The default section lets you quickly clear the current note and begin a new one, export your note or view your history. Note, however, that Scratch doesn't really delete the old note when you move onto a new one, it saved it in the history. Oh, and your entire history is searchable. The second section of the toolbar has 7 additional keys that can be assigned any character you want — even your favorite Emojis. This way, your frequently used special characters are just on tap away. The third section includes commonly used Markdown shortcuts while the fourth shows you the number of words and characters the current note has.
Karbon has put out Scratch as a solid, functional app with a suave & polished UI. There are little areas in the app that carry attention to detail and this becomes evident within minutes of using the app. You can grab it from the App Store for just $2.99.