if (screen && screen.width < 767) {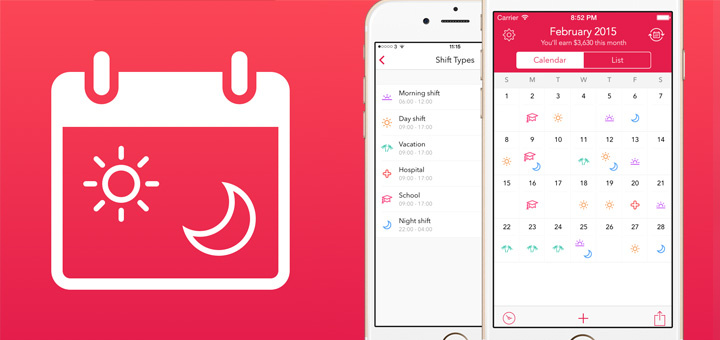 Shifts — Work Calendar for Shift Workers
---
Shifts is a brilliant new iPhone app for anyone who works in, well… shifts. The app has been designed, developed and built by Snowman, popularly known as the developers of apps like Checkmark, Circles & Super Squares. Just like their previous apps, Shifts ships with scrumptious pixels.
Shifts allows the user to create custom shift types and then apply them directly to the calendar days. These shift types are customizable using color, name & a gorgeous collection of icons. Once shift types have been set up, users can either manually add up to 2 shifts per day depending on their schedule or automatically set up shift rotation. The app makes it super easy to add your shifts to the calendar, but also makes it easy to take a glimpse at what your schedule is going to be like over the next few weeks. You can even share your schedule with your peers just as easily. There's a nifty reminder functionality built into the app, so you are alerted about your shifts when one is about to begin.
When adding your custom shift types, if you have specified your hourly rate, the app can even show you your monthly estimated earnings. Shifts also has calendar integration, allowing you to view events right within the app. All your upcoming shifts can be viewed via a Today widget, so you almost never have to launch the app. The app has been polished to perfection and every action and interaction in the app feels great. Shifts is available for iPhones running iOS 8 at an introductory price of $1.99.