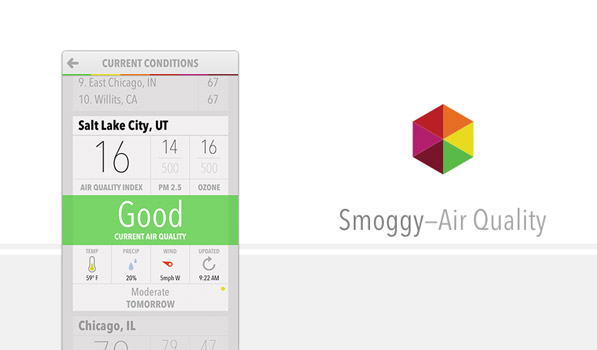 Smoggy is a very elegantly designed iPhone app that offers a simple way to keep track of how the air around you is. The app is a powerful tool to monitor the quality of the air and works just as intended.
Smoggy is very similar to most weather apps available for iPhone on the App Store — you enter your ZIP code, search for your city by name or just use the current location and Smoggy will show you the stats right away. You can add multiple locations in the app. Smoggy pulls its data from close to 500 air quality stations in the United States, so unfortunately the data is available only for cities in the US. The app has a gorgeously elegant interface that shows you stats like Air Quality Index (AQI), Particulate Matter (PM) and Ozone for each location that you add in the app.
The interface is much like the cards in Google Now — stat cards are stacked on top of each other with the main one in focus while the others are faded away and appear in focus as you scroll. There's also a list of Top 10 Best & Worst cities. I don't know what's happening in Connecticut, but 8 of the 10 worst cities were from this state, with the AQI between 104-111.
[showcase id="7844″]
Smoggy also displays other stats like the current temperature, precipitation and wind. As you tap on each of the stats, the tiny icon animates, which is a nice touch. I really like the simple interface Smoggy ships with. It's available on the App Store for just $0.99.