if (screen && screen.width < 767) {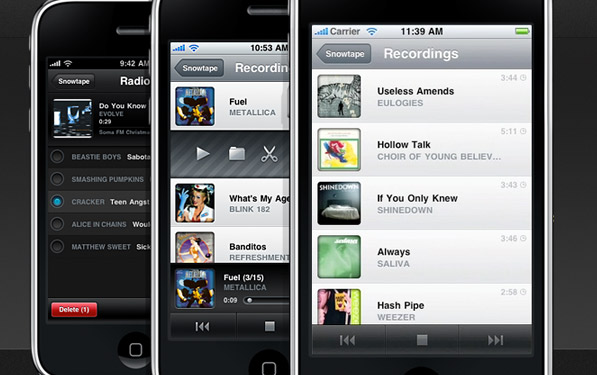 SnowTape for iPhone approved – Fantastic
---
If radio on the go and beautiful UI is your kind of thing, there's no way you can resist SnowTape for iPhone. Approved into the store after a little rejection, the app is packed with features, wrapped in a beautiful UI that's instantly recognisable as something from Iconlicious.
SnowTape:
Snowtape for iPhone and iPod Touch redefines listing to internet radio on-the-go. Choose from a variety of genres and select one of the high quality radio stations. While you are listening, Snowtape automatically records the stream, splits it into tracks and searches for album artwork. If you like a song simply select it and save it for later listing pleasure. Snowtape automatically filters out commercials and interludes.
That's just one aspect of the app; we'll have the rest of it covered on SA. But that shouldn't matter to UI lovers. Iconlicious has created a custom skin that feels right at home on the iPhone. All the native looking controls have a mixture of matte and gloss, with vibrant colours carefully thrown in. And those play/pause controls are characteristic Marfil UI. And for what it's worth, the app works as advertised.
Just $1.99, at the App Store. Wait for the SA review if you aren't sure.