if (screen && screen.width < 767) {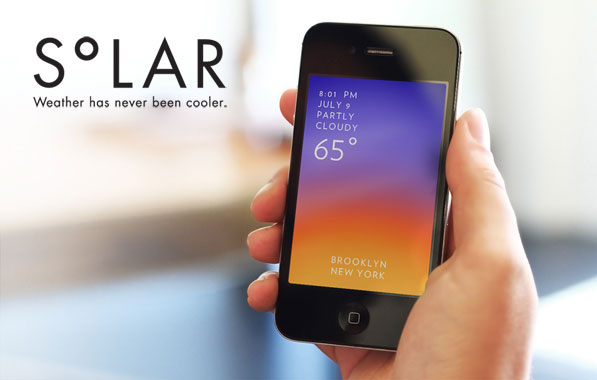 Solar is an Elegant and Gesture Driven Weather App
---
We keep getting asked why we feature so many weather apps here. It happens after every single weather app review. We do it because there are so many gorgeous weather apps out there. But what makes a weather app stand out and worthy of being featured here? It isn't just weather data or a boring interface. Weather app developers are pushing the envelope on how users interact and get to know about weather. Partly Cloudy presented a nice old school analog clock style interface. Solar by Hollr is a brilliant looking gesture driven weather app for your iPhone.
The app presents you with a few tutorial slides after launching it and is very simple to use. Gestures control everything in the app and the weather is displayed as an adaptive background along with the temperature and conditions displayed on the top left. The location is at the bottom of the page and you can view the 3 day forecast by pulling down from anywhere in the app. The 3 day forecast has the highs and lows for each day along with an icon for the weather condition on that day. My favourite part of the app is the upward slow continuous swipe that displays a clock on the top right that changes as you swipe and progresses further ahead showing you the weather for the rest of the day. You can swipe till the clock progresses 24 hours. The app also bounces back to the current time after you release either swipe. Vibration is turned on by default and if there's a thunderstorm, you will have a rain effect on the top and have a pulsed vibration. Adding other locations is just a leftward swipe away. You can view 4 locations together on the screen by double tapping. The settings can be accessed from the same 4 location tile view and here you can disable vibration and change the temperature units. There is a 'Feels Like' setting that didn't make any difference in either setting.
Solar is not for someone who wants a complicated weather info-graphic but for anyone who wants an elegant way to check the weather. The app reminds me a lot about Clear by RealMac Software. Some people love it while others find it too basic. I hope the 'Feels Like' bug is fixed in the next update because there is nothing wrong with this app. Change the way you check the weather with Solar. It is available on the App Store for $1.99.