if (screen && screen.width < 767) {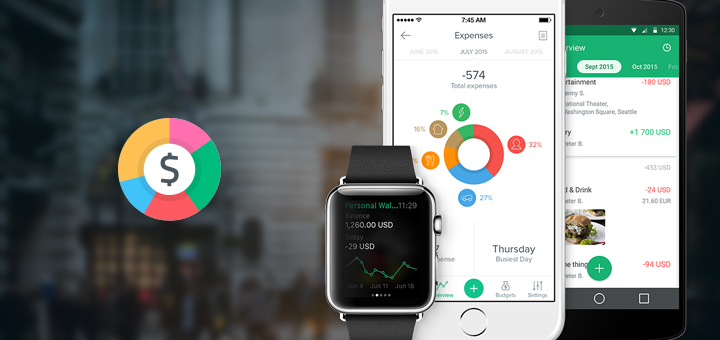 Spendee — Frictionless Expense Tracking
---
It's raining financial apps here on Beautiful Pixels! We recently covered the impressively comprehensive Finances 2, which makes your personal bookkeeping remarkably easy. Our only regret was that the app wouldn't be useful to someone who just wants to track daily expenses, instead of having to worry about the difference between single and double-entry bookkeping. Well, worry no more, dear readers – Spendee, an excellent expense tracking app, has you covered.
As Preshit already stated in his review, Spendee's USP is its exceedingly well crafted UI – they make use of a gorgeous palette, really sharp glyphs for categories, gorgeous typography and slick animations to make expense tracking something you'd look forward to doing – a really tall ask. If the app's design doesn't convince you, and you don't like logging your expenses anyway, Spendee comes with a daily reminder baked in, so you won't skimp on your fiduciary duties to your spouse. On a personal note, I'd have loved it if there was a Dark Mode as well – that's honestly my only design gripe.
What's Good
Logging an expense in the app is a breeze — press the big 'Plus' button in the app, type in the amount, and you're done. Of course, you can also add in some ancilliary information – the category, the currency, descriptions/hashtags, places, photos and whether the expense is repeating. Why is this important? Because, thanks to this plethora of options, you can use Spendee for everthing from minor grocery shopping, to important monthly expenses such as utility bills. The Overview tab gives you a fantastic look at your spending habits, and, should you need to curtail your itchy purchase finger, you can also implement budgeting. Spendee's flexibility, and ease of use, make it fantastic value for money at the grand price of Zilch.
That's correct – a majority of Spendee's features are completely free. There are no ads and no catches – the free tier includes cross-device sync (once you register an account), personalized categories, multiple currencies, export, and budget (though the latter two are for one wallet only). For most people, that's all that's needed. If, unlike more people, you want more features, Spendee has two tiers – Plus and Premium, available as separate $1.99/month or $2.99/month in-app purchases, respectively. These tiers bring shared wallets, unlimited wallets and unlimited budgets. When you pony up an extra dollar a month for Premium, you can also add a Bank Account Sync, which allows you to download and view all transactions made in your online bank account.
Perhaps the main reason why you'd subscribe, however, are the aforementioned Shared Wallets. This feature is incredibly useful if you want to keep track of accumulated expenses in a household, similar to what my wife and I do. We like to keep a record of common expenses, such as groceries and utlities bills. The trouble with having individual instances of other expense trackers, or indeed Spendee's own free tier, is that we aren't privy to each other's expenses, and may not be able to log everything. We got over this problem with Next, by having only one of us log expenses, and then exporting that data to share with the other. It really is a nightmare.
This is where Spendee's Shared Wallets feature comes in handy. I've set up a shared wallet, and invited my wife to it. Now, when either one of us logs an expense, it shows up on both our phones. It's excellent, and this ensures we'll never miss out on an expense. I'm honestly surprised at how well this works – a couple of seconds after my wife logs an expense on her phone, it shows up on mine, and vice versa. This feature, single handely, is a game changer for me. Of course, you, dear reader, may not share your wallet, in which case, you'll have to settle for a fantastically designed, free, expense tracking app. Condolences.
What's Not
I'd absolutely recommend Spendee. It really is a gorgeously designed app, and brings functionality that is simultaneously fully-featured, easy to use, and rather astonishingly, free. For my particular use case, however, I have to dock some points for the lack of a Universal app. Honestly, I think it is unfortunate that I can't use it on my iPad. The greater real estate would do the app great justice, and I'm enough of a post-PC world citizen that I need an iPad app. After all, that iPhone needs to charge some time.
I'd also love a Mac app, but I realize that might just be a pipe dream. The developers are planning on rolling out a Spendee web app, and while that would hardly be ideal, it's certainly better than being forced to enter and view transactions on the phone, only. Hopefully, that should change shortly, as the developers have mentioned that they're planning on bringing Spendee to the iPad soon.
My final complaint is the Spendee Widget. It is about as bare-boned as it gets, with a mention of how much you've spent today, how much you've spent in the week, and a tiny '+', to add a transaction. In the app, you can choose which wallet is displayed in the widget. As far as I'm concerned, it looks like the widget was just added because it sounded like something that needed to be there, not because the developers envisaged a practical use for it. I cannot fathom why developers haven't taken a page from my formerly-beloved Next expense tracker on how to design a widget – a line graph of the expenses made per day, over a period of five days, with a summary of your weekly and monthly expenses alongside. Stunningly simple and practical, this is the single reason I stuck with Next for so long. I find Spendee's Shared Wallets feature convincing enough to switch over now, but nary a day goes by when I don't lament the app's rather woefully underwhelming widget. Surprisingly enough, there are no 3D Touch shortcuts on the app icon either.
Perhaps I'm being a tad harsh, but it's only because I genuinely love Spendee, and want to see it get even better. I have switched over, and look forward to enjoying the app on the iPad soon. I do hope the developers take a long, hard look at the widget, though if my family's use (or lack thereof) of widgets is any indication of the global trend, it's probably quite far down in their list of priorities.
Spendee is available for Free on the App Store and on Google Play, with two IAPs at $1.99/month and $2.99/month, to unlock additional features.