if (screen && screen.width < 767) {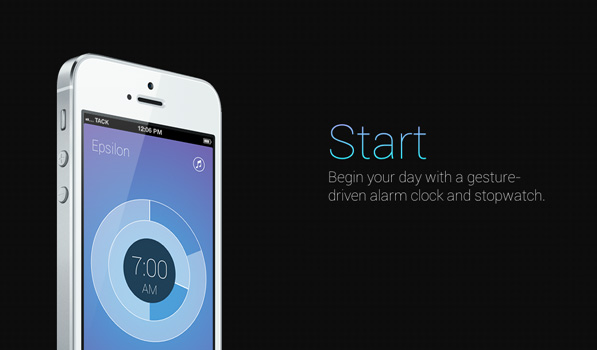 Start — A Gesture Based Alarm App
---
The App Store can never have enough alarm clock apps, can it? Start is a freshly released gesture-driven alarm clock app by Tack Mobile that features a refreshing UI style, very rarely seen on the App Store these days.
The app boasts a slick & flat-ish UI, something I'm sure will catch Mikhail's eye. It uses brightly blended colors throughout all the screens and is very spiffy in its animations. Start focuses heavily on gestures and taps for all the actions in the app. Primarily an alarm clock app, it's very easy to set up alarms using a few simple taps and swipes. You can set up to 6 custom alarms, each with its own tune and theme. A gorgeous gradient fills up the screen's background with a radial clock in the center. You can rotate the dial (anti)clockwise to set the alarm and swipe up to activate it. A timer at the bottom shows you exactly how much time is left before the alarm fires. You can pinch an alarm to delete it.
Each alarm can have an associated action with it. Start lets you launch apps like Instagram, Facebook, Twitter when you deactivate an alarm. I was surprised 'Mail' wasn't on the list here (See Update below). Additionally, there's also a nifty stopwatch included in the app — Swipe the dial downwards and there it is.
There's a good chance you already have an alarm clock app that works great for you and don't want to ditch it. But if you are looking for something new or want to check out an app with a refreshing UI style, give Start a try. It's just $0.99 on the App Store.
Update: As @ajguyot points out on Twitter, Mail is probably not an option because it has no URL scheme to launch it in the inbox view.