if (screen && screen.width < 767) {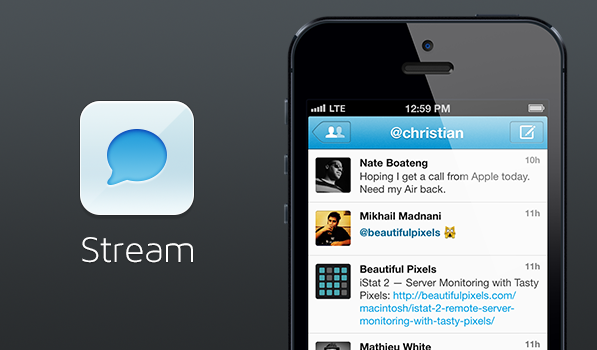 Stream — A Gorgeous New App.net App for iPhone
---
With Twitter screwing more and more developers over with their API bullshit, they are losing 3rd party talent to App.net and the likes. App.net also has a nice developer incentive program. I await the 3rd party Twitter app holocaust that will take place when they fully implement API v1.1 in March next year. Till then, we have some really good App.net clients coming up. Stream by Kolin and Christian is unique and beautiful.
When you launch the app you immediately notice the stunning blues used throughout. I absolutely love what they have done with the navigation bar colour. At first you would think it is just another App.net client but the beauty is in the subtleties like the icons used and the gestures. Tapping the compose button on the top right slides up the composition view that lets you cross post to twitter and add usernames or hashtags to a post. I love how the New Post title on the navigation bar changes into a character count as you type and back when you stop typing. My favourite feature is the configurable right-swipe action. You can set it to view conversation, reply, star or repost. I have it set to reply and after using stream and this, I find it annoying that more apps don't have a configurable gesture like this. The left-swipe action will let you do all of the actions above depending on how much you swipe. The profile page is really nicely designed barring the way it displays your username on the banner. App.net is still in its infancy right now so it is important to have easy access to the global stream. Stream makes it available on the main tab bar unlike a few other apps. The about page looks plain awesome as well with the Handcrafted Co. logo and nice map.
Overall Stream for iPhone is designed really well and it looks really great. I did have the app crash on me once in a while though. I know push notifications are coming soon but given the price, people would expect push notifications as well. It is good to see more and more beautiful apps that have a great UX coming up for App.net. Kolin and Christian have something really great here with Stream. It is available on the App Store for $3.99.
The app is still propagating through the App Store, so if the link doesn't work for you, try again in some time.