if (screen && screen.width < 767) {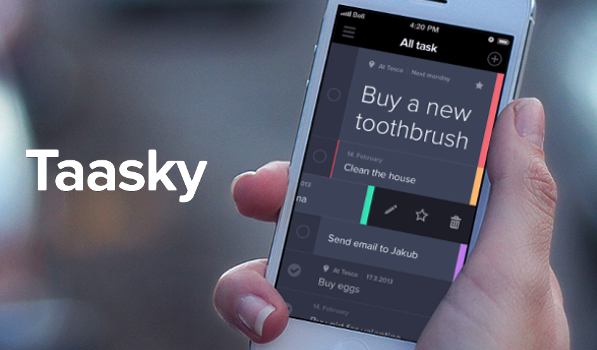 Taasky is an Intuitive Task Manager for your iPhone
---
Taasky is an elegant iPhone app that aims to simplify your task management problems. Taasky has been developed by the same folks who crafted the beautiful expense tracker, Spendee. Like Spendee, Taasky uses playful colours and has a very modern look and feel. The app uses a dark theme and has some splendid transitions and animations.
Taasky simplifies task management while maintaining an extremely beautiful and polished interface. The app is driven by intuitive gestures and uses blurs and animations quite nicely. A simple pull down gesture lets you add a task, where you can give the task a name, due date and time and assign it to a Task List of your choice. While creating a task you can also mark it as priority by starring it. This automatically puts the task on top in the main list view in a larger row, giving it emphasis. You can tap and hold a task in the list view to move it in case you want to change the priority manually. Editing/deleting a task is done by taping on a task or swiping to the left. On tapping a row you are taken to a neat view which lets you edit the task. The way animations and blurs are used here is just fantastic. There is a little circle next to each task in the main list view which lets you mark the task as 'Done'. To clear all done tasks, simply swipe up all the way like you would in Clear+.
You can view all your tasks in individual lists or in a combined list. A swipe to the right activates the menu, which is displayed with a lovely animation. Through this menu, you can switch between 4 lists and access the in-app Settings. The app lets you alter the names of these 4 default lists and also lets you change the glyph that depicts the list type.
The app plays some enjoyable sounds when you mark a task as done or when you have completed all tasks, but I wish there were more sounds. I noticed a few bugs in the app while using the settings menu and editing lists. I hope that the developers add support for the creation of repeated tasks and the ability to add more than 4 lists. The app will be getting synchronisation support with iCloud and Google calendar soon, which will be a huge bonus. Taasky will run you only $0.99 on the App Store and is definitely worth a try.
The app's website has some fun little interactions that show you how enjoyable task management can be with Taasky. If the website is so well made, you can tell how much effort must have gone into developing the app.