if (screen && screen.width < 767) {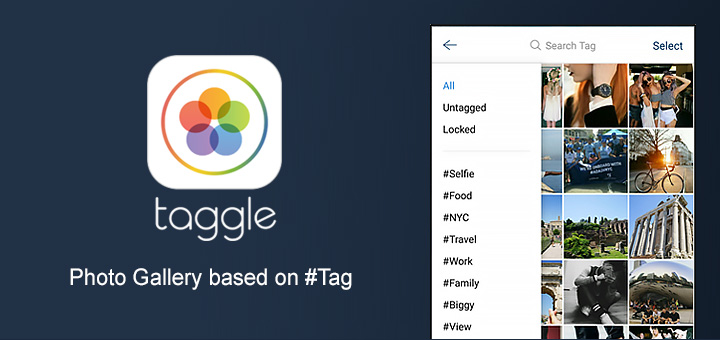 Taggle — Clean your Photo Gallery with #tags [Sponsor]
---
With the growth of social media and increased quality of phone camera, we are taking more pictures than ever. Yet, for the past decade, the process of organizing photos have remained pretty much the same: create folders, select photos to put in, create another folder, select photos… Sometimes it's awkward to create a folder for just one or two photos, and if you were to look for a photo on a spot, you would be scrolling, squinting your eyes, looking for that one photo amongst thousands.
Taggle is a photo gallery app that solves this problem. Unlike other native gallery apps, Taggle has no folders. Instead, it lets you throw multiple tags on multiple photos at once so you don't waste time creating albums and moving photos in and out. Typing is minimized too – once a tag has been created, a "tag capsule" will appear so you can easily drag them onto the photos. You can instantly find a certain photo by filtering search results using the #tags you placed.
Another key feature in Taggle is Cleanup, in which photos taken in the last 24 hours are grouped by the same time or location. If you are a true photographer, you probably take several photos of the same thing then select the best one to keep or share. While deleting photos takes more time than taking them, Taggle's Cleanup makes the cleaning process seamless. You mark the best shots amongst the grouped batch, and with just one button click, Taggle instantly deletes the rest for you.
That's not all – on Taggle, you can also hide private photos. Whether it's a memo of your wifi password or a screenshot of private conversation, you can move these photos into Locked Gallery within the app. The photos kept away in the Locked Gallery will only be accessible with your passcode.
The team behind Taggle carefully crafted its UI and came up with an incredibly simple One-Touch Swipe that enables all the above mentioned features – tagging, deleting, hiding and sharing photos – in a single swipe.
Taggle is now available on the App Store and Google Play for Free.
Our thanks to the folks at Taggle for sponsoring us this week.