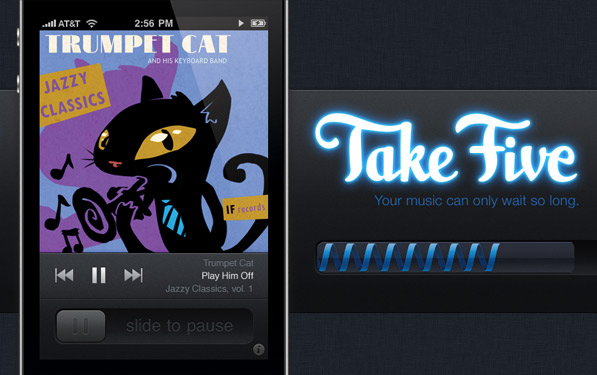 Take Five to keep the sound in place
---
Sometimes apps solve problems, that you haven't heard of before. You buy them to because you feel you probably have that problem (the promo page explained it so plainly!). Perfect examples of such novelty apps would be PDF Readers or Weather apps for the iPhone — you do not really need them, but you buy them because they look nice and just seem to be useful.
Same with the new iPhone app from The Iconfactory, Take Five. Named after the famous jazz classic by Dave Brubeck, this app is all about music. The problem that Take Five aims to solve is quite a rare one. Say if you're listening to music and get interrupted by a person who wants to talk to you (or maybe even the other way round) you would pause playback. Take Five stops your music for up to 30 minutes and after the set time period it fade the music back in so you do not have to worry anymore about missing your favorite song. Maybe some of you can relate to this scene, but personally I've never faced this problem myself.
But whatever, who cares about features and utility, if David Lanham designed the app?! Copious amounts of pixel dust has been prayed all over this app. The user interface for triggering a pause involves sliding a button a la "slide to unlock" which pulls out a glamorous ribbon. If you have pixel lust, you cannot resist buying this app; it looks gorgeous on so many levels. Personally I find it really useless, but man I cannot take my eyes off it. $0.99 on the App Store.