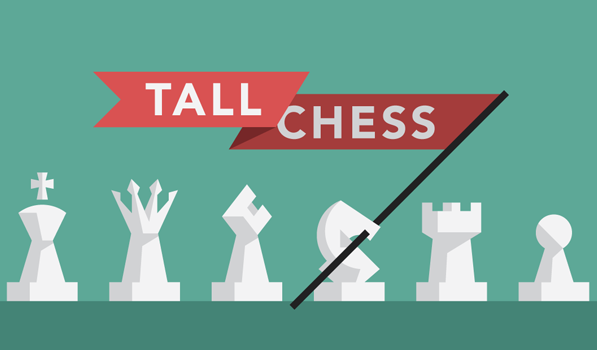 Tall Chess is a gorgeous and fun game for iPhone that might just make more people take up playing chess. It's an absolutely incredible implementation of chess for your iPhone and since it's powered by Game Center, Tall Chess becomes a lot more fun when you're playing with friends.
Very similar to Letterpress by Loren Brichter, Tall Chess uses Game Center's turn-by-turn feature to make the game of chess social. The integration makes finding an opponent or challenging a friend quick and easy, without having to sign up for an account on a 3rd party service. When you start a game, Tall Chess presents you with two (really long) hands, wherein you have to tap either one be assigned a side on the board. Once a game is initiated, you can play your turn and move onto doing something else. You are automatically notified when the opponent has made his move and it's your turn again. While in the game, you can keep an eye on how long it has been since you last played your turn.
Visually, Tall Chess is very beautiful. It's evident that every pixel on the game board is carefully crafted to reach the polish that the game ships with. As the name suggests, the board is taller to make use of the entire screen. There are no extra or unnecessary elements cluttering the UI. As you move a piece, the grid lights up in green or red to denote the legality of the move. There are some pretty amazing animations and transitions throughout the app, that makes using Tall Chess an incrediblly fun experience. In the board, you can pull down to refresh or pull up to view the players in the game along with the color side they're on. In the main menu, pulling up from the bottom starts a new game. These interactions feel natural and you get used to 'em pretty easily. I love how the bottom bounces when you tap it. During a game, you can swipe right to left to review your last move, or the entire game.
Tall Chess is available FREE on the App Store, but only supports one game at a time. To enable multiple simultaneous games and additional colored boards, there's an IAP for $2.99, which actually is well worth purchasing. We definitely recommend Tall Chess.