if (screen && screen.width < 767) {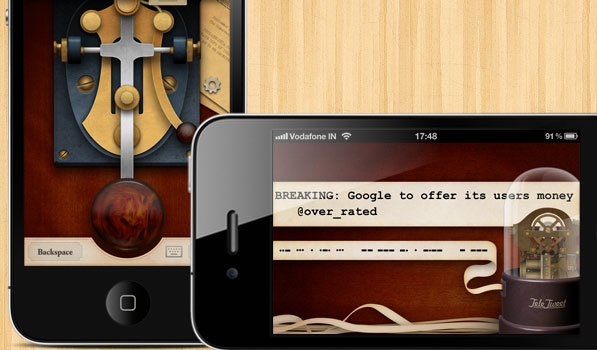 TeleTweet – A Steampunk Morse Code Twitter Client
---
One would have never imagined an app that would let you tweet while learning morse code at the same time. Shacked Software have created a stunning Twitter client that lets you tweet in morse code with TeleTweet. It gives you that nostalgic feeling of sending and receiving telegrams in morse code. While it may seem like it has little practical use, it teaches you morse code in a fun way with something you end up doing a lot, tweeting.
The interface is as steampunk as it can get with authentic sound effects and beautiful visuals. The main window has a morse code machine and the paddle let's you type a message assuming you know morse code without looking. There is a cheat sheet for the folks who don't know morse code that can be swiped down easily. If this gets boring at any point, there is an option to use the standard qwerty keyboard. Once you're done coding your message and hit send, the fun starts. The app now shows you a telegram with your message and the machine plays your message in morse code and transmits it. This makes me want to tweet more and spend some time learning morse code. The settings let's you enable auto-space morse (which adds a space after a few seconds automatically), add location to tweets, enable tweet marker sync and choose which Twitter accounts to use.
When you turn TeleTweet into landscape mode, you are presented with an 1869 Thomas Edison ticker tape machine that acts as a receiver printing your tweets in morse code and english. I love the sound effects here but would really like some way of controlling which tweets are retrieved because it is quite late in fetching most of them. The app has a few bugs here. It sometimes displays the same tweet over and over again or displays a few tweets twice.
There are tons of things I would want them to add here but for $0.99, this is an absolute must buy given the fact that it teaches you morse code, lets you tweet and has a drool-worthy interface that takes you back to a simpler time.