if (screen && screen.width < 767) {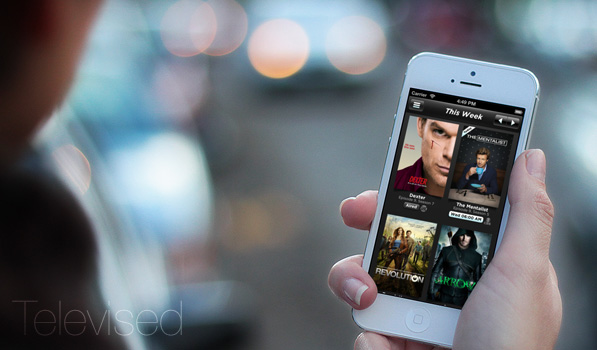 Televised — Your Weekly TV Show Summary
---
All of us here at Beautiful Pixels are huge TV Show addicts. Mikhail is always raving about how much he adores Episodes & Tanmay recently wrote about why he loves TVShow Time. But something that I've personally settled on over the last few weeks is Televised.
Televised has been designed and developed by the Danish app studio Robocat. They've already made a name for themselves with remarkably stunning apps like Outside, Dunk, Thermo and others. Televised, their newest app on the App Store is meant to be your summary of the episodes from all the TV Shows you follow that are going to air in that week. Once you're done adding all the TV Shows that you're currently following, Televised will automatically grab all related meta data and order them according to their air date and time. The app has a weekly view where it shows a grid view of posters, along with the air day, episode number and the air time. The network that carried the TV show is also denoted by a tiny logo. Tapping on the show's poster reveals the details for that particular episode that's scheduled to air that week. You have the episode title, summary, air date and time along with a link to view additional details on IMDb. You can choose to be notified or share it on Twitter of Facebook. Once the episode has finished airing, you can mark it as read.
The UI that Televised sports is stunning. There are some lovely interface sounds that enhance the experience for you. When the app loads an episode's details, there's a subtle "TV noise" that shows up in the background, which is a nice touch. My only quibble with the app is that it takes a lot of time for it to search through its entire database of TV Shows, although you'll only need to do this once. Televised is just $1.99 on the App Store and if you haven't already settled on an app, I urge you to give this a try — you'll love it.
Click through to the website to view the app's screenshots.
Masthead courtesy of Breezi