if (screen && screen.width < 767) {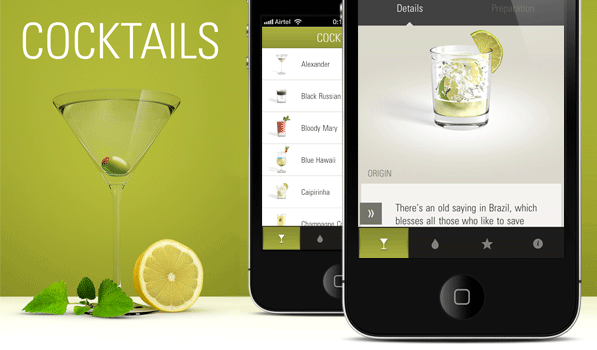 The Cocktail App — That Perfect Sip of Beautiful Pixels
---
A few hours ago, when I received a link to The Cocktail App website, I believe my exact reaction was, "Holy mother of Arkham Asylum Batman, I've got to put this up on Beautiful Pixels." There are so many deliciously yummy pixels put together in this app, that it's not even funny.
Based on the cocktails poster created by Konstantin Datz, The Cocktail App is a stunning iPhone app that brings you the world's finest cocktails and their preparatory recipes, right to the palm of your hands. In one tab, you get a list of 37 different cocktails, each with a glorious icon that you wish you could pick up and take a sip of. It tells you the origin of the drink, the ingredient it needs and the way to prepare it. In the other tab, you get to choose which ingredients are readily available and the app will tell you which cocktails are possible from those. The app has been beautifully designed, making sure every single pixel receives the same kind of love and affection.
The website itself features a beautiful layout, and a little something in the header that you'd want to watch over and over again. Unfortunately, you'd need a Flash-enabled browser to view it. The Cocktail App sells for $1.99 on the App Store and even if you're not into spirits, you'd want to download this app for the sheer beauty of its UI.