if (screen && screen.width < 767) {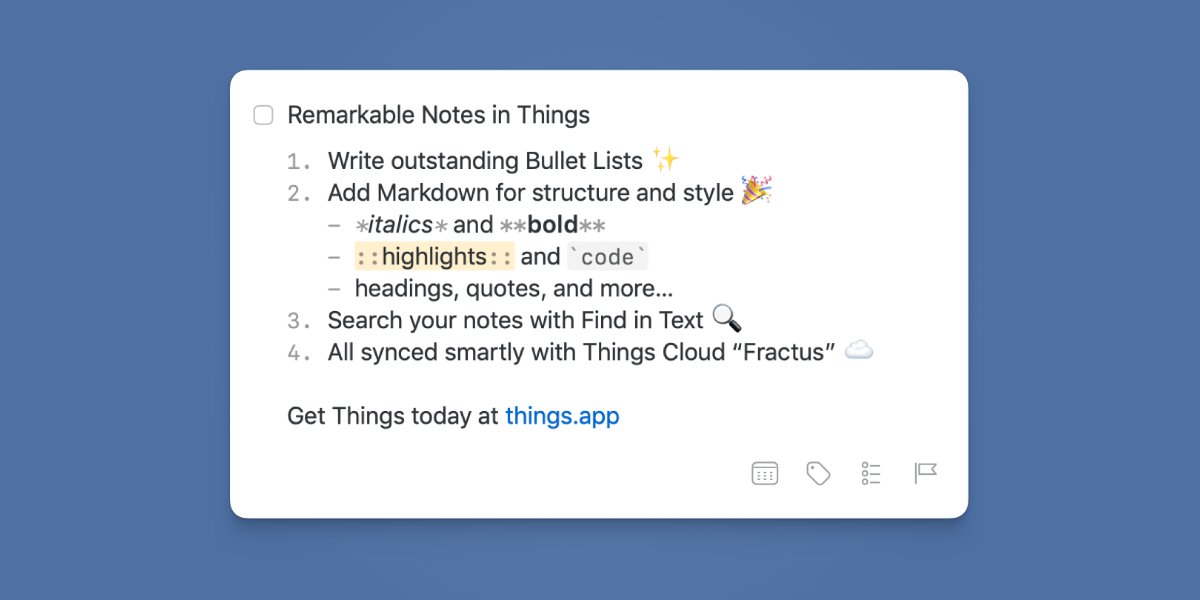 Things 3.14 Brings Bullet Lists and Markdown Formatting to Notes
You Can Now Write Detailed Notes in Your Tasks & Neatly Format Them for Legibility.
---
Cultured Code has today released Things 3.14 for iPhone, iPad, and Mac that brings some terrific improvements to task notes. If you are someone whose to-do lists are incomplete without detailed notes accompanying every task, then this release is right up your alley. Things 3.14 brings formatting options to note-taking in your tasks with Markdown formatting and Bullet Lists, along with a new Find in Text option to search through your notes and a new version to Things Cloud called Fractus that improves syncing across devices.
Markdown Formatting & Bullet Lists
Things now supports Markdown formatting in the notes, and it's basically a full-blown mini Markdown editor in there. You can keep the formatting as simple or as detailed as you want. The app supports the usual syntax — single asterisks around a word for *emphasis*, dual asterisks for **bold**, dual colons for ::highlights::, and # to ###### for h1 to h6 headings. If you prefer using underscores instead of asterisks for emphasis, those work too. There's strikethrough and hyperlink support as well. Here's a video of it in action.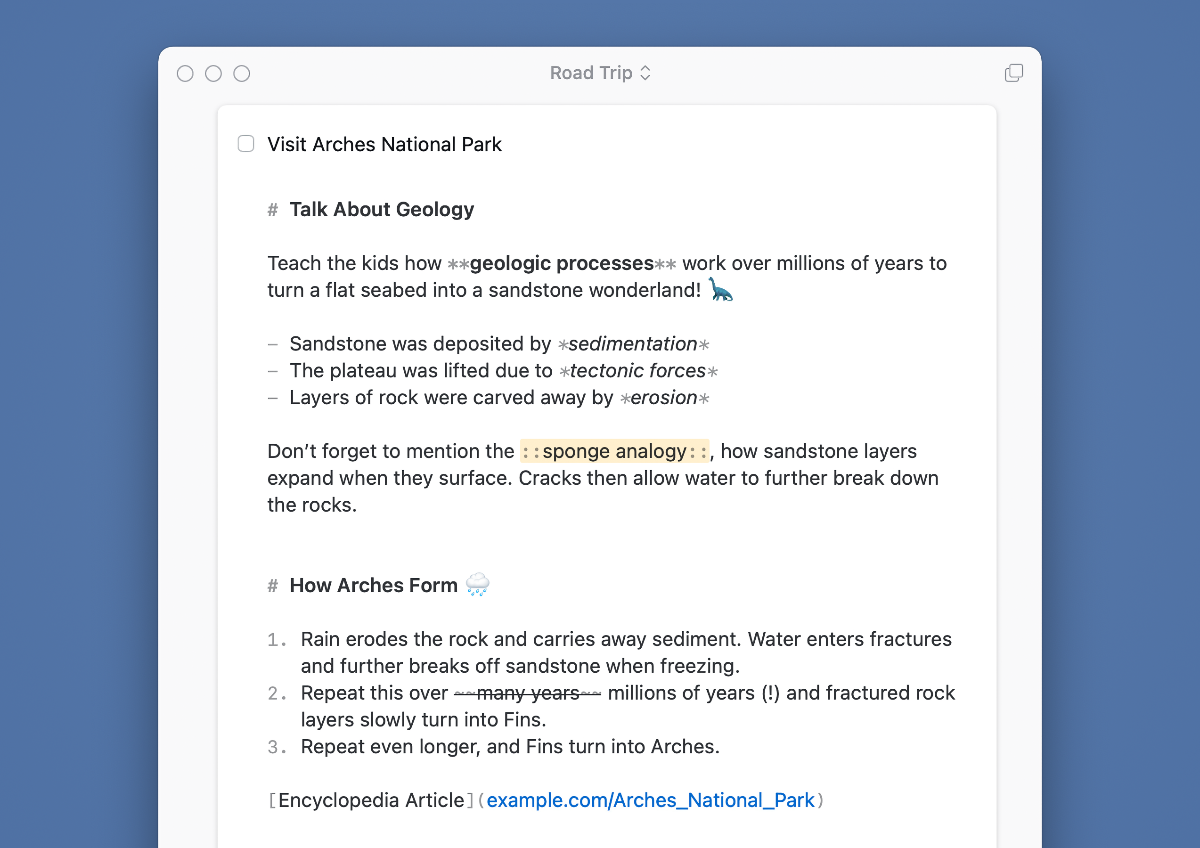 If you're on an iPhone or iPad, you can double-tap a word and then tap on the 'Aa' option to select from the following options in the bubble popup:
Bold | Italic | Heading | List | Numbered List | Task List | Link | Code | Code Block | Strikethrough | Highlight
Next up, are bullet lists, which you can type using the -, *, + or numerical characters. Yes, you could type out lists even in the earlier versions, but now the bullets are formatted in a better way using monospace fonts. You can even do nested lists now.
The app has a new Find in Text feature that searches through the text in a note, in case the note's gotten too big and you have to find something in there.
Things Cloud "Fractus"
Things Cloud has been one of the most rock-solid syncing experiences available on the App Store. Ever since its launch, Cultured Code has ensured that your data in Things syncs across all your devices without any issues or major conflicts. Things 3.14 improves upon this syncing experience by making it even faster. Called "Fractus", this new version of Things Cloud only uploads and syncs the exact bits that have changed in your tasks. Here's how Cultured Code puts it:
Until now, each time you modified a note – say to insert or remove a few words – the entire note would be synced again across all your devices. With our new method, only the fragments of text you modify are synced. This drastically improves the speed and efficiency of the sync, and allows for smarter resolution of conflicts.

There's nothing you need to do to enable this – we've already rolled it out.
I switched to Things last year, just after the pandemic began and I love how delightful & elegant the app is. It has consistently helped me stay productive & organized while I work from home. It's one of the best To-do apps available on the App Store today and has delivered remarkable features with every release.
Get Things 3.14 for: