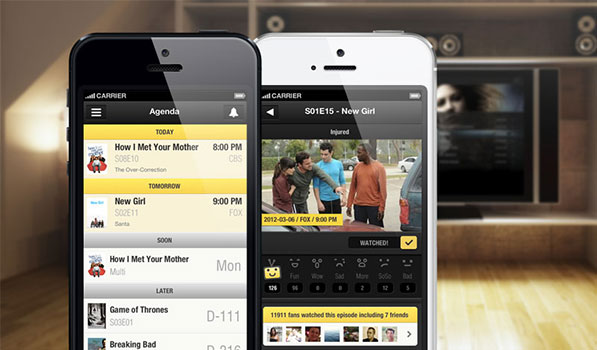 TVShow Time is a Beautiful & Feature Rich TV Show Tracking App
---
Watching TV Shows is probably the most favorite pastime for all of us. Most of us spend countless number of hours watching TV shows, at least I do! Numerious new TV shows are launched each year, shows also tend to keep on renewing and it's no surprise to see them span above five seasons. We tend to get hooked on to a lot of shows and at times it just becomes very difficult to keep track of all the shows you're following. I personally watch a ton of TV shows and have used a handful of apps for managing shows. Some of them have already been featured here. I happened to come across TVShow Time recently and was blown away by its feature set. It's already become my favorite TV show tracking app.
TVShow Time will help you effortlessly manage all the TV shows you watch. You begin with adding all the shows you're watching in the 'My shows' section. All your shows are presented in an attractive iBook's style manner with a progress indicator below them. You get to mark individual episodes from seasons you've already seen. The ones you haven't watched are automatically added to the 'To watch' list. Every show has detailed description about its plot, cast and link to its Wikipedia and IMDB page. The slide to add/mark gesture in the show's detail screen is a joy to use. The 'Agenda' section will show you the list of shows you follow that are airing today, tomorrow or shows that have aired in the previous week. By default the app will alert you a day after the show airs. You can change this to get alerted moments before the show begins airing.
The features don't just end at tracking your shows; the app has a very powerful social aspect to it. You can invite or add friends already using the app either via Facebook or SMS and you'll be able to see what they watched and share comments with them. Discovering new shows is another feature that's brilliantly executed. The 'Explore' section shows a list of all shows by popularity, you can choose to filter that list by genre, shows which are new, followed by your friends or recommended by your friends. There's also a genius option that will recommend you shows based on your history. You can also make a list of your own and share it with others as well as browse through lists create by other people.
There's just so much going on in this app due to its exhaustive feature set that one might get overwhelmed. Yet it's always fun to use owing to its stunning user interface and elegant use of animations throughout the app. The use of yellow compliments the interface beautifully and makes using the app a visual treat.
TVShow Time is available for Free on the App Store and it's a must have for any TV buff.