if (screen && screen.width < 767) {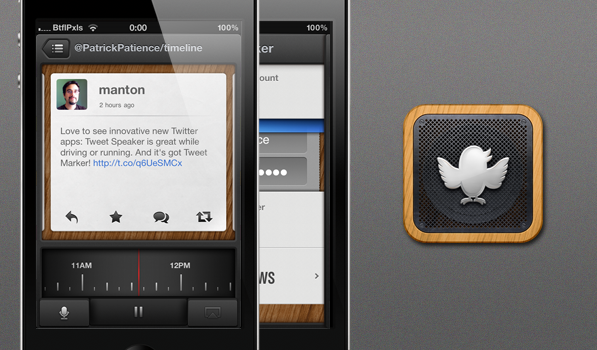 Tweet Speaker Is Your Tailored Twitter Podcast
---
When @drbarnard posted a snapshot of the finely crafted Tweet Speaker icon seen above my response was simply, "No idea what that is but I want one." Behind that icon wasn't just an interface filled with more delicious design, but a fully-functional app that I've already found indispensable.
Tweet Speaker is from App Cubby, the folks behind a couple other superb apps like Gas Cubby and Trip Cubby. As the name and icon embody its purpose quite well, it needs little mention that Tweet Speaker's function is to read your tweets to you, one by one, through your typical computerized voice; see it in action.
On Tuesday we learned of Siri, the unebeliveable new voice support in iOS 5 on the iPhone 4S. Although the commands with Siri seem endless, there's currently no API work Siri in to third-party applications; hopefully something we see through the next year. That's why Tweet Speaker fits in perfectly. As seen with Siri, the times when this voice support is most valuable is when your eyes can't afford to look at your phone. So perhaps you're out for a run or bike ride and want to hear the latest chatter, or your on your way home from work and want to catch up on the tweets for the day, Tweet Speaker can do that for you. It's no doubt that Tweet Speaker can make a great addition for the visually impaired, too.
Tweet Speaker comes with with Tweet Marker support, adjustable reading speed – which in my opinion bumped up a bit makes the tweets a ton easier to follow – and Airplay. Tweet Speaker also does multiple accounts and lists, so listening to sports, news, tech, whatever, it's all doable. Hopefully in the future we'll be seeing a couple more voices as well. Maybe not the enchanting voice of Morgan Freeman or the mesmerizing tone of Jony Ive, but perhaps if you're lucky we'll be hearing that broad from your GPS.
Tweet Speaker runs for $2.99 in the App Store. It's something I didn't know I wanted, or needed, rather, so it may be right for you as well. Check it out.