if (screen && screen.width < 767) {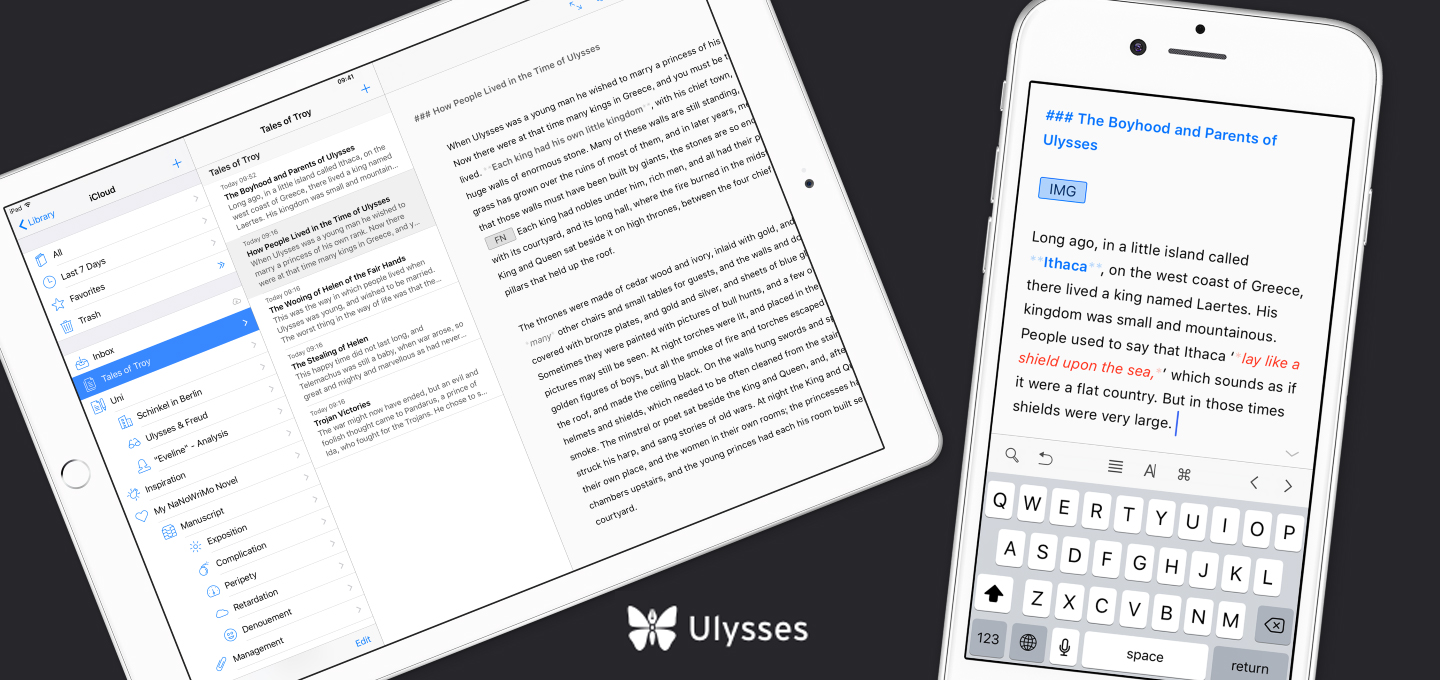 Ulysses Matures into a Stellar Writing Environment as Version 2.5 brings it to iPhone
---
I have been a staunch Ulysses user ever since the introduction of Ulysses III for Mac back in early 2013. Over the next two years, The Soulmen continuously chiseled and shaped it into a fantastic writing app on the Mac and with the release of Ulysses 2.0 last year, it went on to become one of the most solid writing apps I'd ever used on the Mac. At the same time, the Ulysses developers also treated us with Ulysses for iPad, a brand new app that completely replaced the aging Daedalus Touch iOS app. Today, a year after it's iOS debut, Ulysses for iPad has been update to Version 2.5 that brings all the goodness and features of the iPad app to the iPhone.
If you've bought and used the iPad app, this is a Free Update for you. With this release, you can now enjoy everything you've loved about the iPad app right on your iPhone. The developers have adapted beautifully to the smaller screen size and almost nothing about the app feels cramped or cluttered. Your entire iCloud library is available and accessible via a few simple taps, so you can seamlessly switch between devices anytime and anywhere. I love the special shortcuts bar right above the keyboard that gives you handy access to Markdown shortcuts and other nifty features. This is functionally better on the iPad, but it's really handy on the smaller screen.
On the iPad side of things, Version 2.5 brings support for iOS 9's Split View feature, so you can use it right next to your favorite app. There's also full support for the iPad Pro, making Ulysses a great writing companion with the hardware keyboard.
That's not all, though. The developers have also introduced some other great features into the app, such as Medium export, Share Extension, X-Callback Actions, 3D Touch shortcuts, Spotlight support, ability to import Microsoft's DOCX file format, as well as many other nifty features.
There's one feature that I kinda wish Ulysses had, and it's also what's keeping Mikhail from switching away from Editorial — support for Dropbox syncing. Ulysses does support importing files from Dropbox, but unfortunately you can't use Dropbox as an always-on syncing solution.
Ulysses is now a stellar writing environment and suite with great apps for Mac, iPhone and iPad. Ulysses for iPad is now simply called 'Ulysses Mobile' and is available for $20 on the App Store. Along with this release, The Soulmen have also released an update for Ulysses for Mac that brings along support for all the features introduced in the iOS version as well as some new feature additions.