if (screen && screen.width < 767) {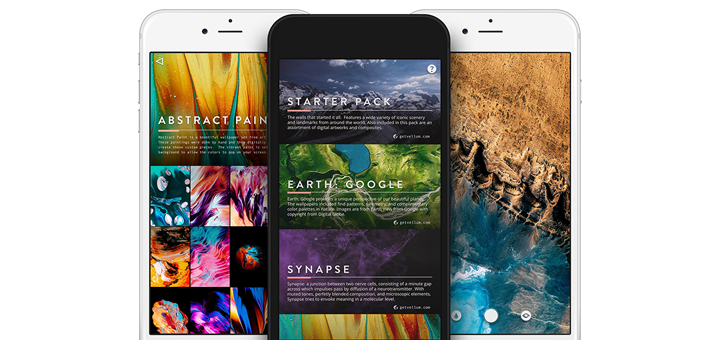 Vellum — Wallpapers Galore
---
We review a lot of things here at Beautiful Pixels — from Text Editors to Calendar Apps, and everything in between. Wallpaper apps don't make much of an appearance on this site, because what matters with such an app is less how it is designed, but rather how beautiful its contents are, specifically, the quality of the photographs that it offers up.
Vellum, developed by the creator of the most excellent Mextures photo editing app, is an app that gets the design right as well… for the most part. The lineup of images available is extensive, and very well curated. The way the categories are organized is efficient and well though out. The app also has a nifty way of letting you try out the wallpaper for size – simply choose your wallpaper, then tap a button on screen to show a mock homescreen/lockscreen, with your selected wallpaper applied. The app also packs a Blur tool, allowing you to customize the level of blur on your selected wallpaper and tailor it to your needs.
The idea behind the app is simple – let someone else curate wallpaper choices for you. All you do is check them out, apply a blur if you'd like to do so, and then the app will save the image to your camera roll, so that they can even be used on other devices (thanks to the magic of iCloud Photo Library or Google Photos). The selection of wallpapers is a treat, too – the Starter Pack, especially, is an absolute treat. The images that are saved to your Camera Roll are reasonably high resolution, too.
Now, why would we say that the app is designed 'mostly' well? Sadly, while the app is ad-supported, it offers no way of getting rid of them. I'd gladly pay for the privilege of not having the ugly ad banner at the bottom of the screen as I peruse the photo gallery, but the app offers no way to do so. Also, every now and again, a none-too-subtle banner pops up at the top of the screen, informing you that some of the wallpapers have been edited in the aforementioned Mextures app. I don't mind being told that occasionally, but the banners pops up way too often for my liking.
All in all, Vellum gets a lot of things right. I'd prefer the option to get rid of the ads, but I guess I can understand – the app is completely free. Take it for a spin, and we're certain you'll find a wallpaper to your liking. You'll have to do your best to ignore the ad banner and the product placement, though.
Get Vellum for Free from the App Store.