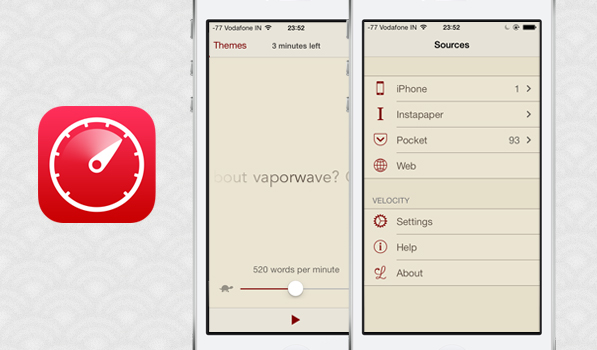 If you love reading articles on the web, there is a good chance that you use apps like Pocket or Instapaper to save articles and other content for consuming later. While both these services have great native apps, there is always room for improvement in the speed at which you consume the content. Preshit reviewed Syllable earlier this month and I'm going to talk about Lickability's new app, Velocity here. I've been a huge fan of their other app, Quotebook and I'm extremely pleased with Velocity.
Velocity has been built from the ground up to look amazing on iOS 7. The main screen has your sources for content and a few settings. You can add your Instapaper and Pocket content and also use the app's in built browser to search for and add content for reading later. This is much easier than actually using a browser and sending stuff over. It lets you surf from within and get stuff read quickly. It also reads links from the clipboard. When you select your source and tap a link, the app starts its speed reading and the words appear one by one with no distractions on the screen. You can tap to pause the reading and adjust the speed and themes here. I love the use of a tortoise and hare to indicate slower and faster speeds. Tap the play button at the bottom to resume your article. Velocity has 3 great looking themes. There is a light and dark theme and also a sepia theme that is my personal favourite. The themes all have a very succinct description mentioned below them. Articles can be archived by swiping them to the left. What's a reading app without font options? Velocity supports Helvetica Neue, Courier New, Georgia and my personal favourite, Avenir. Font size is dependant on your dynamic text settings in iOS 7 and while it is convenient to have many apps follow the same system, I'd honestly prefer an app specific control for font sizes. It even supports OpenDyslexic font. The settings screen lets you add a Velocity bookmarklet through Safari and login to your accounts.
Velocity is a very simple app that helps you improve your reading speed as you consume your own content. It looks absolutely stunning on your phone and even comes with a great looking, homescreen-worthy icon. Go ahead and start reading faster with Velocity. You can get it on the App Store for $2.99.