if (screen && screen.width < 767) {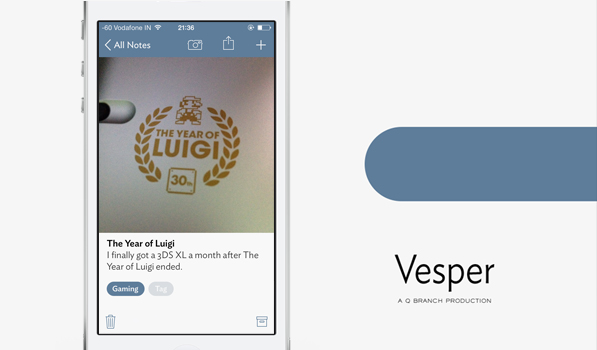 Vesper — Polished Elegance
---
When Vesper released a few months ago, there were reviews praising its elegance, reviews scoffing at the app's seemingly lack of features, and posts hating on the app because John Gruber directed the app. At the time, I honestly didn't bother with the app and I bought it over the holidays because I wanted to check it out. This turned out to be a great decision. This review may come months after the app launched, but it deserves to be here. Vesper is not just a minimal notes app for iPhone. It is one of the most polished pieces of software I have ever used.
Vesper App is meticulously crafted by Q Branch, which is John Gruber, Dave Wiskus and Brent Simmons. It makes use of a sidebar menu that you can access by swiping from the left edge of the device. Your main notes view has your notes in a list with thumbnails for images, if included. You can create a new note by tapping the + symbol on the top right. Notes can be archived (but not deleted) from here by swiping to the left and can be rearranged by tapping and holding down on the cells.
Everything in Vesper has been animated beautifully. Whether it is the view fading in while the compose window is displayed or the way the other items in the notes list behave as you swipe back. There's a small tag bubble silhouette above the keyboard on the compose window. You can tap this to add tags to the note. The camera glyph on the top allows you to add a photo to the note. The share glyph lets you share the note via mail, message or copy its contents. There are no native share sheets used in Vesper. Everything is custom. The sidebar makes use of the stock iOS 7 space background and displays your tags, archive and has the typography settings with app credits.
[showcase id="11258″]
The typography section has a toggle for utilizing small caps for the title of your entries, text weight settings and font size options. There's an example note at the bottom that gives you a live preview of how a note will look. The credits for Vesper have been done really well. It resembles a movie poster. Vesper gets its name from the cocktail of the same name invented by James Bond in Casino Royale and the bottom of the credits page has instructions to prepare it.
Vesper really excels at what it does. Every iOS app developer should aim to have this level of polish in their apps. However, the app is sorely lacking a sync or backup solution. I'd be ok with just a Dropbox backup, but it isn't there. It still works phenomenally well and easily awes you with its polish. Vesper is available on the App Store for $4.99.