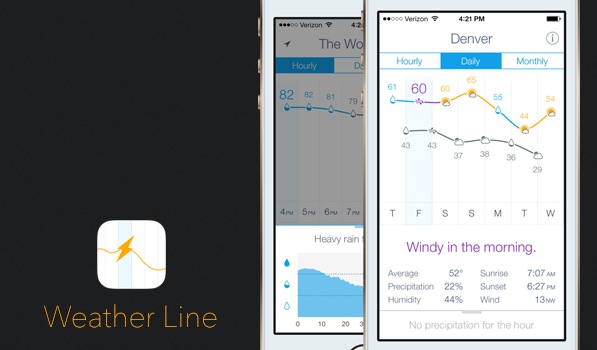 I am not a weather nut. Despite writing about a plethora of weather apps on BP here, I still live and work out of a place like Mumbai, where throughout the year, the weather can almost always be classified as "Hot & Humid". Moreover, most weather sources aren't that great in predicting the weather around this region anyway. Except Forecast.io. The service, from the creators of Dark Sky app has been the closest in sufficiently impressing me and the vast amount of data they have for the world is impressive in itself. That's why, when Ryan wrote in to me about his new weather app called Weather Line which is powered by forecast.io, I had to check it out. I've looked at several different weather apps on the App Store and each one brings something unique to the battle and so does Weather Line.
Designed by the fabulous artists at Pacific Helm, Weather Line boasts a design that is very reminiscent of the iOS 7 design. The UI is neat and makes use of a great choice of colors & glyphs. One look at it is enough to make you fall in love with it. Weather Line presents the data in neat little charts with pretty icons to display the weather conditions. You can check the forecast either Hourly, Daily or Monthly. You are presented data like rain precipitation, humidity, wind along with sunrise and sunset times.
Weather Line is available today on the App Store for just $2.99 and is one of the few impressive weather apps that I've come across. You should get it.