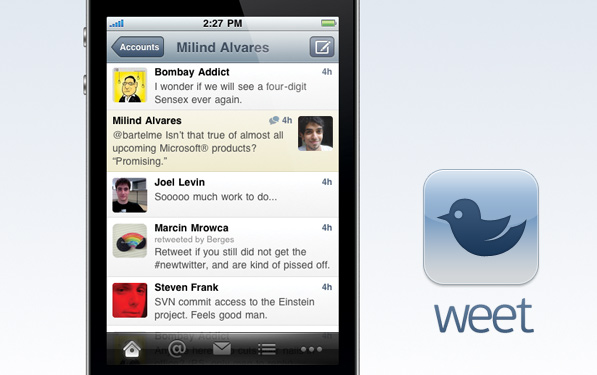 Weet — Clean, Beautiful, Twitter app
---
It's been a while since we've seen an all new twitter client for the iPhone worth talking about. Weet definitely fits the description.
Weet looks and feels like Tweetie with a skin. Where Brichter pursued native UI elements, the Weet guys have given it glow and shine, and horizontal pinstripes. The look is signature Marfil, with pale blues and glowy buttons throughout the user interface. It looks good. It looks clean, too. Even though it displays the same information as Tweetie, it makes better use of whitespace.
I like that all the tweet settings are shown right in the account switcher pane, so you don't have to navigate too much. I also like that it supports twtmore, the upcoming new tweet shortener (although it repeatedly returned an error in my case). It's got most of the other features you would expect from an iPhone twitter client — lists, 'read later services', native cloud app support, conversations. Hell I might have even preferred using it to Twitter for iPhone. But since I don't use the iPhone all that much, we'll have someone else do a full review on SA (soon).
It's $0.99 to buy.