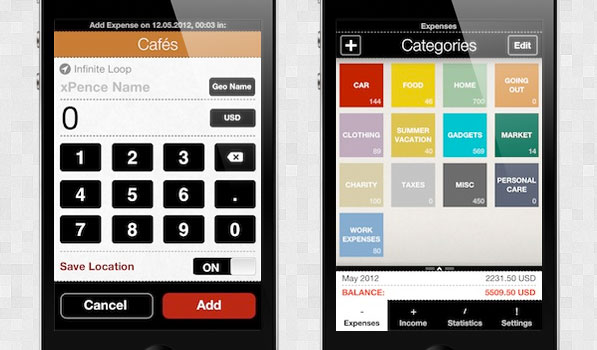 xPence – Your Gorgeous Finance Manager
---
The iPhone is so much more than your phone with the amount of apps available in the App Store. It helps you get things done and keep track of what you do. Managing finances is something everyone does. There are many great budget tracking apps in the App Store. xPence, developed by Andrei Nica, adds some beauty to something as mundane as keeping track of expenses on your phone and has a ton of useful features.
When you launch the app, you are greeted with a category page that lets you add a tile with a category name and colour. It has a very pleasing flat UI that is almost Metro-like. The app will randomly assign a colour and name the category "x" for you as well if needed. Once you have your category tiles in place you can rearrange, rename or delete tiles just like you do with icons on your homescreen. Adding an expense is a breeze. You tap and hold the tile and are presented with an elegant view which gets your location and lets your add the amount and a name if needed. I really love the Geo Name feature in the app — xPence pulls locations from Foursquare and can use a nearby place as a name for the expense as well. Tapping a tile will reveal your expenses for that category and you can view your expenses for the day, week, month, year, last 30 days, last 3 months, last 6 months or all time. You can also send a PDF of your recorded expense by email if needed. There is a separate tab for your income and when you run the app, it will show you your expenses and balance money left over at the bottom of the page along with a small tab that you can pull to reveal your history. The statistics page shows you what you spend on for different periods of time like the individual category pages. The settings page lets you set your home currency and a passcode for security. The foreign currency mode is one of the best features this app has. It lets you set a foreign currency and when this mode is on, all your expenses are automatically converted from the foreign currency to your home currency. This will be extremely useful for people traveling abroad.
xPence is by far one of the best overall apps in terms of functionality and design in the App Store. After being spoilt by apps like Clear and Tweetbot, I was a little disappointed that there were no sounds in this app. That being said, this is by far the best finance managing app I have ever used and I cannot recommend it enough. It is available on the App Store for $2.99.