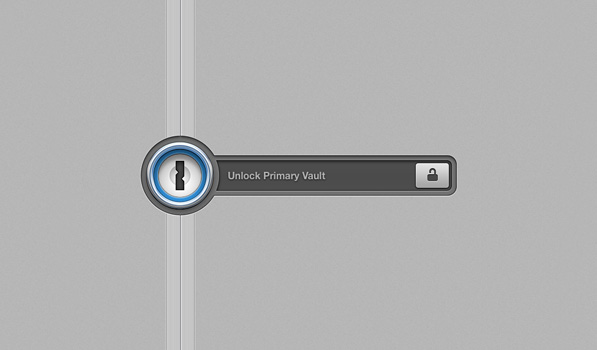 1Password has long been one of the first few apps I install on my devices after a fresh start and I've always recommend the app to everyone looking to take security and privacy of his online presence seriously. AgileBits have done a remarkable job with the app and with the release of 1Password v4 for iOS late last year, they completely revamped the user interface and added a bunch of notable features, making it the best password manager app available for iOS. Today, the company has released 1Password 4 for Mac, a major update that not only brings a complete revamp of the user interface just like the iOS version, also adds some incredible new features to the app that now make 1Password, quite easily, the best password management suite.
1Password for Mac's last major release was in 2009. The release of 1Password 4 for iOS made the Mac version seem old, outdated and out of touch with modern times. Thankfully, AgileBits have managed to bring a delightful UX to the Mac app once again.
Revamped User Interface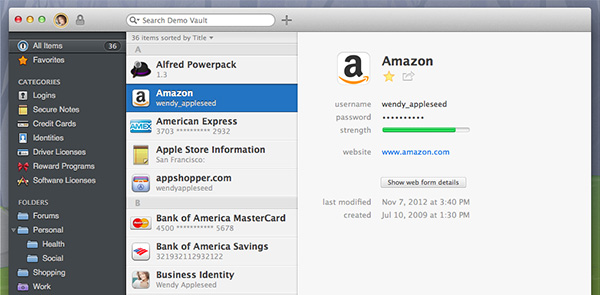 Of course, the most notable feature of this release is its revamped User Interface (UI). The app now sports a slick, modern look to it and feels right at home on Mountain Lion or the upcoming Mavericks release. The app icon, the window design, the layout and the sidebar icons have all been updated. 1Password now feels impressively spiffy & smooth.
I love how, just like on the iOS version, the lock of the vault on the first screen slightly pulsates blue & grey, and once you have entered your password, it turns 90 degrees, changes color to green and lets you in. It's the little details like these that score high cookie points from us.
1Password mini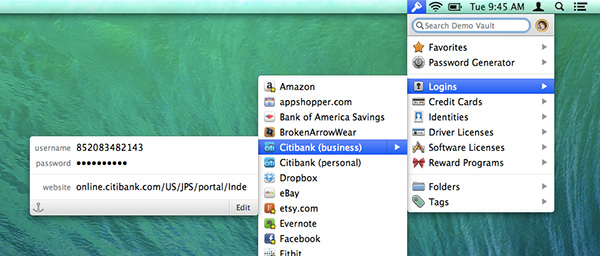 In version 3.x of 1Password, you had to either rely on the main application window or the compatible browser extensions to access your password databases and retrieve the password for the site or app you wanted to log in with. While this worked most of the time, it was cumbersome when the website didn't support this for some reason or opened the login frame in a pop-up window that couldn't invoke the browser extension. This method also made it impossible to log in into Desktop apps without launching the whole app and copy/pasting your password into the app. With 1Password 4, AgileBits have also shipped a tiny, menu-bar client to go along with the main app. This little app, called 1Password mini works independent of the main app and can access your entire database without the need of having the main app window open. Invoked by using the global hotkey, 1Password mini quietly sits in the menubar till you need it. Once invoked, you can browse through the 1Password database and directly use your credentials to log in on whatever app you're trying. 1Password 4 still supports browser extensions, but they've been rewritten in native Cocoa and work along with 1Password mini to give you an optimum experience.
This is the most brilliant feature that 1Password 4 brings to the desktop and it works just as advertised. The upgrade to version 4 is worth for this feature alone.
Multiple Vaults & a Demo Vault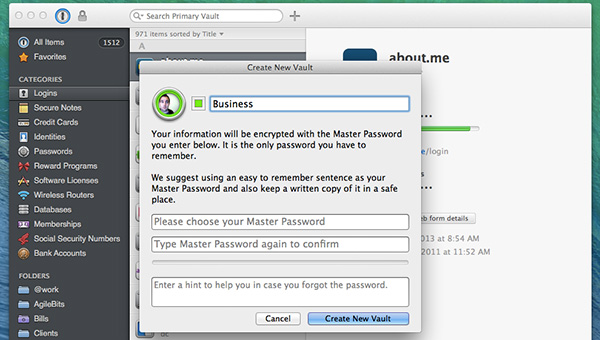 1Password 4 supports the ability to maintain separate vaults, each with its own set of logins, preferences and locations. If you have a business computer or multiple people use the same device, each of them can have their own vault in 1Password and protect it with their own password without worrying about the other using accessing it.
Additionally, 1Password 4 also now supports to share any individual item via email or obfuscated iMessage, just like the iOS version. For example, if you want your colleague to manage your business twitter account, you can share the login credentials with him right from 1Password.
This version also brings the Demo Vault to the Desktop. The feature, which was first seen on 1Password 4 for iOS, lets you login with a 'demo' password and 1Password will load demo content for you, so that you can show around the features and functionality of the app to your friends and family without revealing any of your own passwords.
Favorites
One of my favorite features in 1Password 4 for iOS is Favorites. The app allows you to mark some of your most frequently accessed items as favorites and makes them available easily grouped together. This feature is now also available on the Mac and if you sync the same vault across your devices, your favorites automatically show up on the Mac as well.
Security Audit
With 1Password 4, AgileBits have included a nifty feature called 'Security Audit'. Available in the Sidebar, this feature lets you filter out all the passwords that you should ideally change. The options include 'Weak Passwords', 'Duplicate Passwords' and passwords you haven't changed for a long time, such as passwords that are 6-12 month old, 1-3 years old and 3+ years old. It is never a good idea to use the same passwords on multiple websites or services and it is recommended that you change your password every few months, so this is a handy feature that'll help you get that done.
Miscellaneous
With the growing concerns about online privacy and the "how safe really is your data in the cloud" debate, AgileBits have brought the Wi-fi sync feature back in this version. This way, you can sync your vaults across all your devices directly via Wi-fi. I continue use the Dropbox sync for my personal vault.
If you've been running 1Password 3 on your Mac, it will automatically recognize the database when you run 1Password 4 for the first time. Additionally, with Dropbox sync, you can also point the app towards your saved database file and will be pick it right up.
1Password 4 for Mac is a remarkable update from AgileBits and a great addition to what is a must-have app on iOS as well as Mac. The update is available on the Mac App Store today, and surprisingly, the good folks at AgileBits have made the update available completely FREE to existing Mac App Store customers. If you hadn't already purchased it, 1Password 4 for Mac is available for just $39.99 and is absolutely worth every penny you spend on it.
Additionally, you can purchase the app directly from the AgileBits website. If you purchased the app directly in 2013, you will get the update for Free. In case you currently have a 1Password v3 license, the upgrade cost for you is just $24.99.
Honestly, there's no other app I'd recommend as highly as I would recommend 1Password. Here's a handy link you can share with your friends: http://get1.pw