if (screen && screen.width < 767) {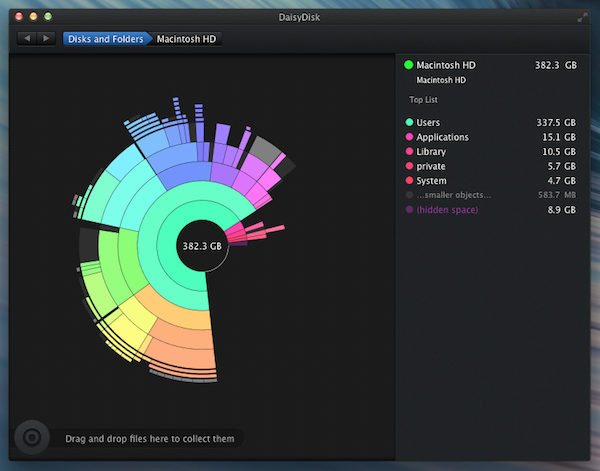 DaisyDisk 3 makes Disk Analysis Simple and Fun
---
A lot of us are digital Hoarders. Fast and unlimited Broadband has enabled us to download movies we may never watch and buy apps we don't need. Now, more than ever, we need to manage our data efficiently. DaisyDisk is here to make that process fun. DaisyDisk 2 launched with considerable fanfare back in 2011. It was chosen as one of the Best of Mac App Store 2011 applications. And on good merit. The Mac app was fast, beautiful to look at and most importantly, functional.
Last week, the developers finally updated Daisy Disk to version 3.0. The interface is not much different, why replace something that 'just works'? The scanning is still just as fast, may be even faster. It took DaisyDisk less than a minute to scan my 120 GB SSD drive. After the scanning is done, DaisyDisk presents you with the ever familiar Disk Map with all the info about your files and folders. Colored petals are folders, grey ones are files. In this form, it's easy to spot the Time Machine back ups from years ago, or that movie you said you will watch that one time. Digging deep into the files and folders is incredibly snappy, and the colorful Disk Map animation makes file management something it never is – fun. The Navigation Bar up top tells you your exact location, so if you go too deep or get lost in the wilderness of your files, you'll be back to the top in just a jiffy. Diving deep into the folders is faster than ever before as DaisyDisk 3 doesn't need to scan the whole disk while re scanning specific folders.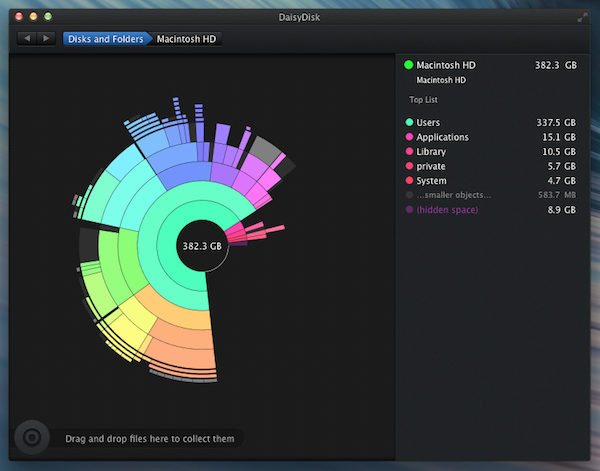 Although it might not seem so on the outside, DaisyDisk 3.0 gets some much needed upgrades on the back end. It's now fully supported for Retina Displays, the brand new 64 Bit engine delivers all that speed but only works for OS X 10.7 and up. There's also an updated icon to shine in your Dock. You can check the whole list here.
The only unintuitive part of the application is deleting a file. You'll have to drag your files or sectors to the round icon in the bottom left corner that plainly states "Drag and drop files here to collect them". A Delete button shows up only after you've dragged the file. It would have been nice to have OS X's familiar Trash Can icon instead. DaisyDisk 3.0 is a free upgrade for 2.0 users. If you don't have DaisyDisk yet, you can buy it from the Mac App Store for just $9.99.