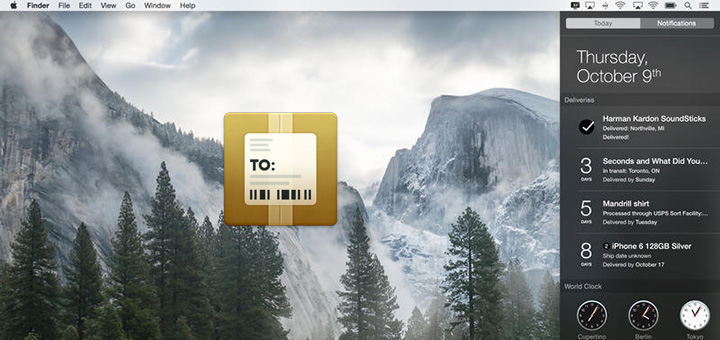 Delivery Status Touch by Junecloud for iOS is by far the best package tracker app available on the App Store. It looks amazing and works great. On OS X though, we've had to keep the (ugh) Dashboard enabled just for the Delivery Status Widget. Thankfully, this changed when OS X Yosemite shipped recently. Junecloud introduced Deliveries for Mac — a full fledged, native app for Mac available through the App Store with a bunch of new features.
Deliveries builds on everything that was great about the iOS app and adds some really great things. The interface is reminiscent of the iPad interface and has the translucency effect on the sidebar. The app goes against the norm with a non-circular icon in the dock that looks like an actual package. The highlight of the app for me is the Today widget. It is gorgeous and gets the job done. It uses interface elements from the app while managing to fit perfectly with the other widgets. Deliveries can share your shipment status via iMessage or AirDrop and it goes further by having an option to add estimated delivery dates to your calendar. You can even add new Deliveries straight from Safari with the new share extension. Of course, your deliveries are synced across all your devices as well.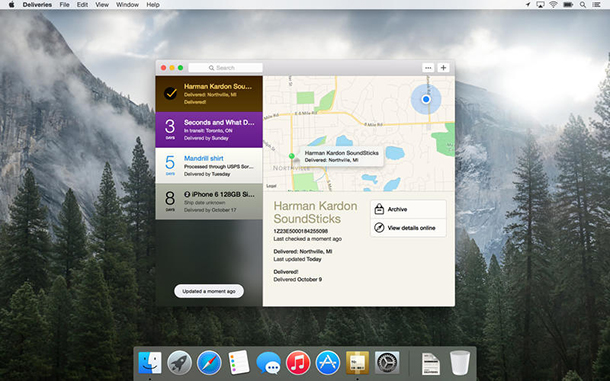 Deliveries deserves all the praise it gets and if you love tracking your packages, it is a must buy. With Black Friday coming around the corner, there's no better time to stop relying on emails or poorly designed tracker websites. Deliveries for Mac is available on the Mac App Store for just $4.99.