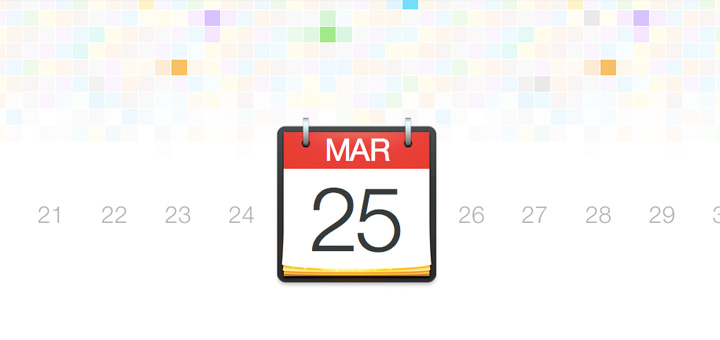 If you're a serious calendar user on a Mac or iOS, chances are you're using already using Fantastical in some form or the other. Flexibits completely changed the way we schedule events or use our calendar and their apps on iPhone, iPad and Mac have been incredibly well received by the audience. Today, the Flexibits duo of Michael Simmons and Kent Sutherland release Fantastical 2 for Mac — what we believe to be the best app on a Mac today.
Swanky new User Interface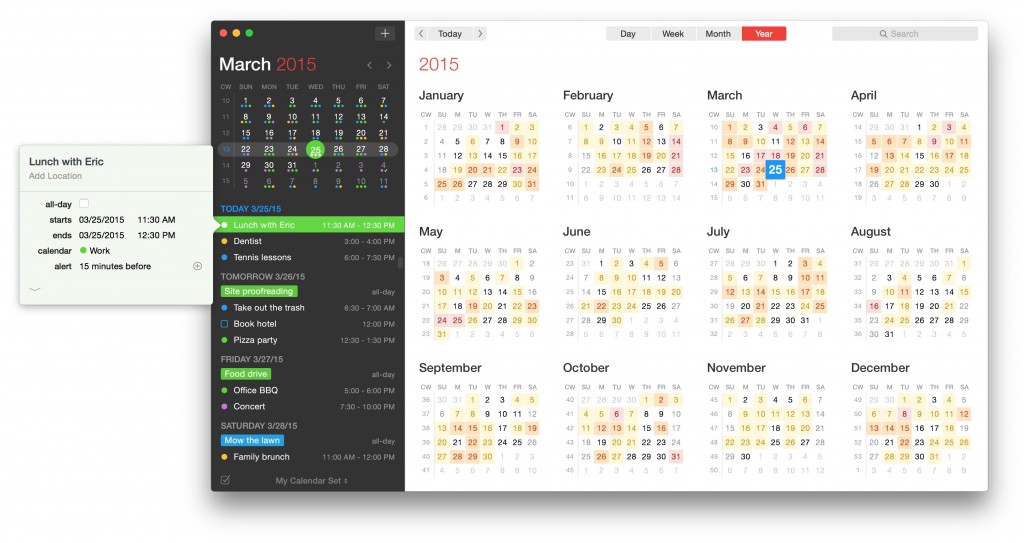 Fantastical 2 for Mac sports a beautifully designed User Interface and has been ingeniously crafted specially for OS X Yosemite. Having used the app over the last few weeks, I can firmly say Fantastical 2 feels better than anything I've used on my Mac. The app feels spiffy, the animations are slick and everything about the app has been lovingly crafted to perfection. Just like its predecessor, Fantastical 2 sports a menubar mini window with an overhauled design that feels right at home on OS X. You can still detach this window and have it float over other apps. Fantastical 2 also sports a full calendar window that takes full advantage of the screen real estate by offering Day, Week, Month, and Year views that you can jump between with a single click. On the left is the sidebar that displays the current month as well as your upcoming appoinments. You can switch between a Light or Dark theme for the sidebar. The whole window works as a great way to not only get a quick overview of your schedule, but also helps you find exactly what you are looking for. Yes, there's a search feature available at the top right that lets you search anything in your schedule.
Built for OS X Yosemite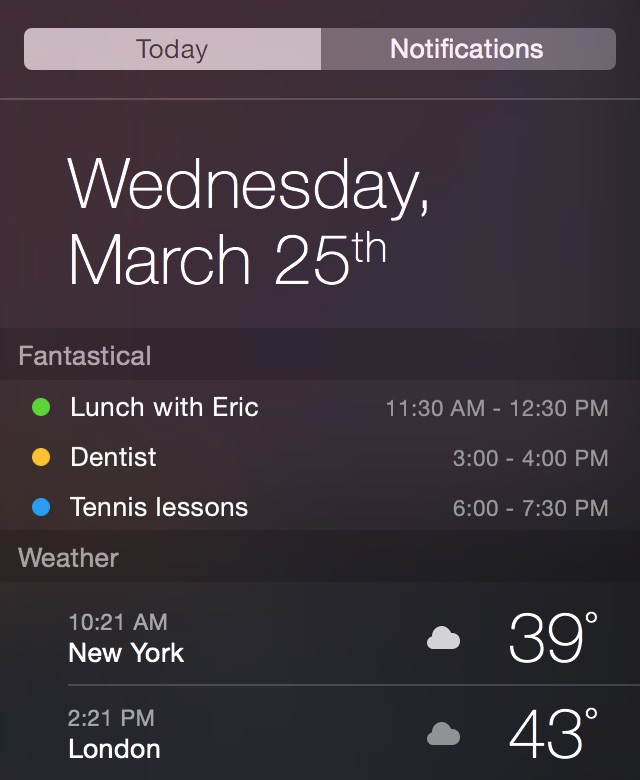 Fantastical 2 doesn't just go hand-in-hand with OS X Yosemite's design, it's also takes advantage of the APIs offered by the OS. You can enable the Fantastical Today Widget for your Notification Center tray and get a quick glimpse of all your events scheduled for today. It also has Share and Action extensions to create events from any native apps that support extensions. Getting stuff from Safari directly into Fantastical is now possible and super easy too. Fantastical 2 also supports Handoff, so if you have the iPhone or iPad version of Fantastical on your iOS devices, you can continue exactly where you left off.
Natural Language Parsing
Fantastical's biggest feature in its iOS and Mac apps has been its Natural Language Parser (NLP) that lets you create new entries using common language. This has been greatly improved in this release, letting you enter strings like, "Remind me to Pay the Credit Card Bill on the 4th saturday of every month" and Fantastical 2 will know exactly what you want to be scheduled. There's better support for iCloud reminders as well in this release, as Fantastical 2 lets you view your events and reminders together in a single list.
Calendar Sets
One of the highlights of this release is the support for Calendar Sets. If you have multiple calendars setup and configured on your system, this might just be the best thing to happen to your app. Fantastical 2 supports the accounts you have already configured on your system, so you need not set them up again in the app. Fantastical 2 not just offers native support for any iCloud, Google, Yahoo or Fruux accounts, but you can also add any CalDAV account (such as FastMail). Then you can create groups of these calendars depending on your usage. For example, I have a 'Personal' calendar set that includes my FastMail, Facebook and Gmail account while there's a 'Work' calendar set that includes calendars from my Google Apps accounts.
What makes this feature even better is the support for Location based Calendar Sets. You can configure your calendar sets to automatically activate when you arrive at or leave any location. So Fantastical 2 will automatically switch to your Work set when you reach office and back to your Personal set when you get back home.
Time-zone Support
As someone who works from India, I have to deal with different time zones all the time. I've mastered the conversions for Eastern and Pacific time zones, but anything else and I have to depend upon a Google Search, head over to Every Time Zone or fire up Miranda on my iPhone. Thankfully, Fantastical 2 has one of the best implementations of time zones I've seen in any app. Not only can you create events for specific time zones using the Natural Language Parser, you can also view/change time zones when viewing the details for each event. If you travel a lot, floating time zones are your best friend.
Localization
Localization is largely an overlooked feature in most apps, but really helps if English isn't your primary language. Fantastical 2 for Mac is fully localized in English, French, German, Italian, Spanish and Japanese. Not only is the user interface available in your preferred language, you can also enter your events and reminders in your language and Fantastical 2 will follow you as you type.
Back in 2011, Fantastical for Mac revolutionalized how you use calendars on your Mac and today, Fantastical 2 takes a giant leap ahead, as you no longer have to depend on the default OS X Calendar app.
Fantastical 2 for Mac is available at a launch time sale price of $39.99, with the standard price being $49.99. You can grab it from the Mac App Store or directly from the Flexibits website. You can also download a free trial if you're still unsure.