if (screen && screen.width < 767) {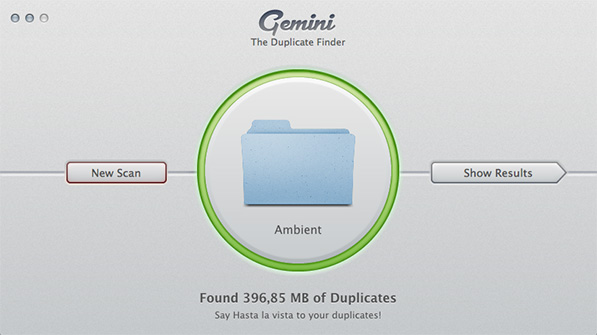 Gemini Helps You Finds Unintentional Twins Of Your Files
---
In today's day and age, hard disk space is not as much a scarce resource as it used to be just a few years ago. But with more space comes more responsibility as well. Keeping your data and files organized has become a very difficult and exhausting task. Especially if you are in need of copying and moving a lot of files, unintentional duplicates of documents can be a real mess.
Of all the solutions available today to stop this burden of having useless data covering precious space on your HD, Gemini from MacPaw is the newest, and in my opinion, the most interesting and auspicious approach to this. With its fast algorithm, it performs the powerful task of quickly searching through folders or disk drives for duplicate files. Just drag&drop your "problem area" from the Finder into Gemini and it'll do the rest for you — within seconds. All the data it finds is then displayed in a Finder-style window with preview and path information for every single file and with two clicks, you can select them all and delete them at once. In one sentence: it works very fast and precise with every feature you'd expect.
But the most notable feature of Gemini is its look – it is breathtaking and makes the.. yes, rather boring task of deleting duplicates fun and desirable. The app is designed beautifully using rounded edges and well placed shadows and gradients and looks almost like a real machine. It also boasts some lovely animations and effects, one of it in particular being the coolest I've ever seen in a productivity app — after selecting all the duplicates, the app 'prints out' a list of all the files it can delete and the list slides through an animated document shredder and all your duplicates get cut into small, digital paper snippets and are moved into the trash. Fantastic!
I swear to all pixel lovers out there, you'd buy Gemini just because of this hot, visually spectacular UX. However, combine this with its list of features and the ability to carry out its task quickly and correctly and Gemini becomes a must have for everyone who cares just a bit about organized hard disk space and a good UI. Grab it for $9.99 on the Mac App Store.