if (screen && screen.width < 767) {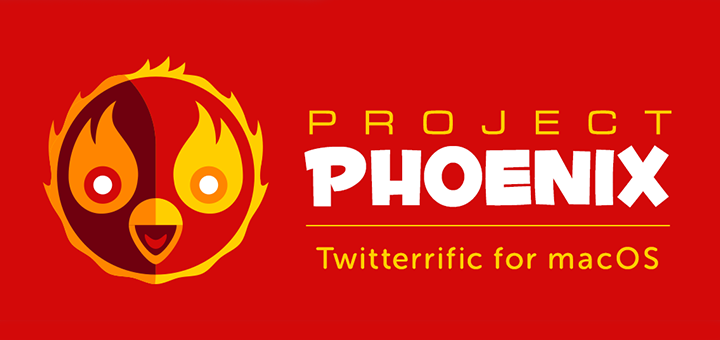 The Iconfactory Announces Project Phoenix — A Kickstarter Campaign to Revive Twitterrific for macOS
---
It boggles my mind knowing that I have spent almost ten years on Twitter. I still remember signing up on Twitter on August 15th, 2007, while attending to some tasks I had to finish for Burrp! the next day. Whatever I am today, and whatever I have achieved in the last 10 years, I owe a lot of it to Twitter — the people I have met, the friends I have made, the products and services I have discovered — all of them have made me into what I am today an what I do.
A majority of my early years on Twitter were spent thanks to one app — The Iconfactory's Twitterrific for Mac. Twitterrific was a first of its kind app for Mac and did a stellar job of letting you spend time on Twitter. And I know several others who also began their journey on Twitter with Twitterrific by their side. Even today, Twitterrific holds a special place in my heart, and I still cherish the little blue Ollie vinyl figure on my desk. Unfortunately, in recent years, the folks at The Iconfactory focussed their attention more towards the iOS version of the app, and the Mac app stopped being updated three years ago.
Today, the team behind the app has announced Project Phoenix — A Kickstarter Campaign to revive Twitterrific for macOS. The Iconfactory hopes to raise a minimum of $75,000 in 30 days in order to build a completely new version of Twitterrific, offering a basic set of essential features, including:
Unified home timeline
Multiple account support
Composing, replying, and quoting tweets
Muffles and mutes
Streaming
Themes
Delete and edit your own tweets
Sync timeline position with iOS
VoiceOver Accessibility
Keyboard control
Attaching images to tweets
Timeline search (text filter/find)
Open links to other tweets, profiles and media in your browser
There are two stretch goals — $100,000 and $125,000 that will enable the addition of some additional features to the app. I find it very odd that the basic set includes Themes, but not Direct Messaging (part of the $100,000 stretch goal).
That said, backing the campaign is a no-brainer for us here at Beautiful Pixels. The Iconfactory has a proven track record of delivering some of the best apps for Mac and a basic pledge of just $15 gets you a license to the final version, while $30 gets you access to the betas as well.
In less than an hour of going live, the campaign has already raised $5,235 from 125 backers.
We urge you to head over to the Project Phoenix Kickstarter campaign and check out the rewards in detail.