if (screen && screen.width < 767) {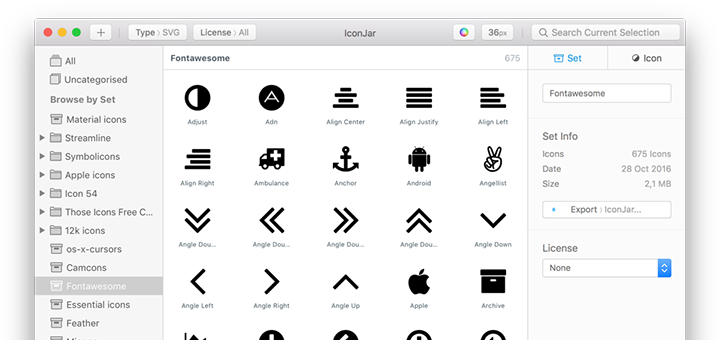 Iconjar — All Your Icons in One Place
---
If you're a designer, a front-end developer, or quite simply someone whose line of work involves working with icons (or glyphs), then you know how cumbersome it gets to manage all your icons and icon sets. Storing your icons into folders is not at all ideal, especially when you have icon sets with hundreds and thousands of icons, but only a few useful ones. Iconjar is a Mac app that aims to make things easier for you.
Iconjar is a library app that holds all your icons and offers you the flexibility and ease of working with them. Think of it as the Photos app for your icons. You can browse icons by set, Quick Look or preview them, tag them, search icons and export them as you want. You can filter icons by Type (SVG, PDF, Font, GIF, PNG, WEBP or icns or by License Type. You can preview the icons in any size or color using the two nifty options at the top right of the center column. Iconjar also features a fantastic export tool that contains presets for popular export types. For example, you can export tab bar icons for iOS with a few simple clicks.
Iconjar has been crafted by Curtis Hard and Davey Heuser, Iconjar has been in beta for almost two years now. Earlier today, the duo has shipped v1.0 of the app to the masses. You can download a Free Trial from the website to get a hang of the app and buy it for just $20 when you're ready.
Looking for some beautiful icon sets? We recommend Iconfinder. If you sign up using this link, you get 70% off your first month.