if (screen && screen.width < 767) {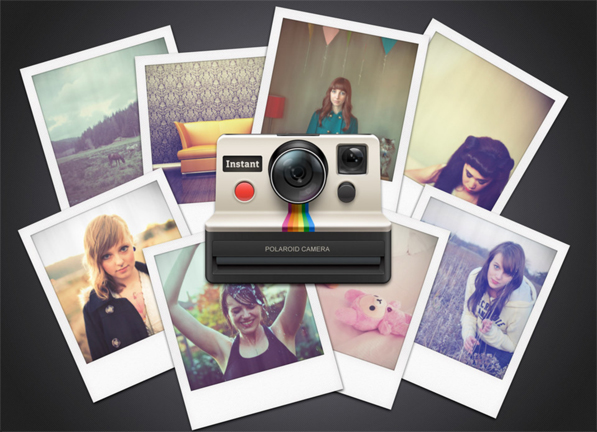 Instant is the Best Polaroid Camera App for iOS or Mac
---
In a world where most photos are shared using filters on Instagram or Flickr, the source of the same filters is often forgotten. Audio enthusiasts still prefer listening to music on vinyl and there are tons of apps that beautifully try to replicate the experience of listening to music on a turntable like TurnPlay. Today's generation has completely missed the whole Polaroid camera phase. Instant by Think Time Creations replicates the workflow of a classic Polaroid camera on your Mac or iOS device.
If you've used or seen a Polaroid camera, you know of the sounds and time it takes for a photo to develop. Instant gives you complete control over everything. On the Mac the application is the Polaroid camera. You drag images into it to process and the photos slide out. The iPad on the other hand has a photo canvas along with the Polaroid camera that can be moved around. The iPhone app that launched recently has an interface similar to apps like Instagram and Camera+ with that lovely Instant touch. The iPad and iPhone apps let you take photos from within the app or work on photos from your camera roll. Once the photograph has finished developing (This speed can be adjusted in the app settings or preferences. Having the speed minimum and maximum indicated by a hare and tortoise was a very nice touch) you can pick one of 30 unique photo filters and fine tune the effects. The strength, vignette and emulsion can be adjusted and you can then add a caption. I am against captions for the most part but the app has handwriting style fonts that bring back memories of scribbling a caption on a freshly developed photograph. Images edited can be shared to the usual networks along with Instagram if the app is installed on your iOS device. This allows you to fine tune your pictures using Instant's filters instead of the same old Instagram filters.
Instant is a great looking and simple to use tool for your photos. If you're nostalgic about Polaroid cameras and the sounds they made, the app will be an instant purchase (no pun intended) for you. The app icon deserves praise as well as it looks amazing on your device and in your dock. Instant is available on the App Store for iPhone and iPad for $1.99 each and on the Mac App Store for $4.99.