if (screen && screen.width < 767) {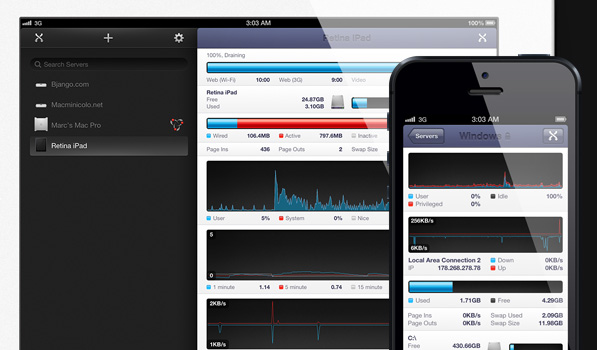 iStat 2 — Server Monitoring with Tasty Pixels
---
Bjango has long been one of our favorite app developers. They've been churning out apps with some delicious pixels year over year and continue to do so even today. Their apps like iStat, Sideways and Consume have already been featured here on Beautiful Pixels and the wallpapers and concept ideas by Marc have made an appearance here too. Today, Bjango has released iStat 2.0 — substantial update to their little monitoring app.
iStat 2.0 has been completely redesigned and comes with a gorgeous coat of tasty pixels. The app is now Universal, working across all the iOS devices Apple offers including the iPhone 5 and iPad mini. I absolutely love what Marc has done with the general UI styling in this app. The colors chosen for the UI elements look stunning and the tiny icons in place for the servers or HDDs look fantastic. I especially like the styling of the Navbar buttons and this treatment to the buttons really stands out.
There is a HUGE amount of information that iStat now monitors and displays in the app. Server apps can be installed on Mac (Download Here) and Windows (Download Here) machines, while a 3rd party, open source server app called iStatd is available for Linux servers. I was blown away looking at the amount of data and information iStat managed to pull and display when I set up the Server app on my Mac. You can monitor servers that are on your local network, or via the Internet. Macs on your local network show up automatically via Bonjour and setting them up is very easy. Even though iStat has an abundance of information to show you, it lays it out perfectly such that it doesn't feel cluttered at all. The numbers, the graphs, the progress bars all look like they belong right there. The information keeps updating live, so it's fun to see the processor and memory usage graphs on your iOS device. You can rearrange the order of these stat cells easily too.
iStat 2 not only lets you monitor remote servers but also shows you the stats from the iOS device it is running on. Stats like your battery like, including the breakup of Web usage (Wi-Fi and 3G), Talk (2G and 3G), Video and Music, memory usage, processor usage, Wi-Fi and Cellular data throughput are fun to go through. Your list of servers is kept in sync across all your devices, thanks to iCloud.
It's evident that a ridiculous amount of work has gone into the making of this release by spending just a few minutes with it. Everything UI element is polished to perfection in the app. The attention to detail in elements like the loading indicator which also works as a progress indicator is marvelous. The app is a great tool to have for anyone who is into servers or just a fun tool for average consumers who want to keep an eye on their iOS device's data. At just $4.99 on the App Store, you know you want to buy it looking at those pixels up there.
Update January 4th, 2017:
iStat 2 is no longer available on the App Store. A new version in the form of iStat 3 is now available.