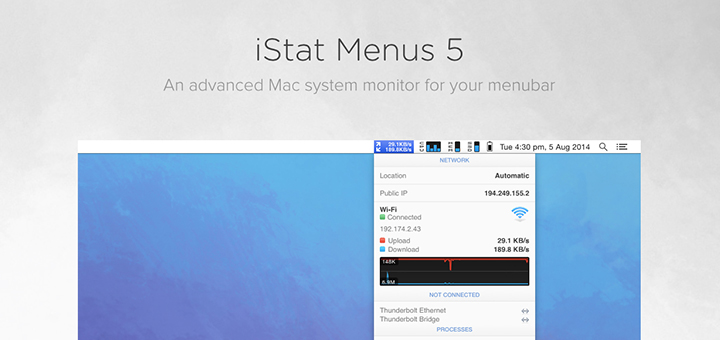 If you've read my Mac app reviews, you know how much I love dark interfaces. Many apps released for OS X use the standard light look and interface colours instead of going for a more modern look. Heck even Apple showed off a lovely dark look for the menu bar in Yosemite. Apps like Pixelmator and Briefs don't go flat but still look modern and great. Bjango makes great software. Skala Preview is a fantastic app for designers working on iOS and Android. iStat Menus has been around for a long time. Today iStat Menus 5 releases and it takes monitoring your Mac to a whole other level.
The app looks amazing. Everything from the toggle switches to the graphs and colours just fit perfectly together. iStat Menus 5 is also Yosemite ready. I'm running it on Mavericks on a 2011 MacBook Air and the menu bar items from iStat make the menu bar look like I'm on Yosemite. The update adds a whole lot of new features and tweaks. Yosemite's dark menu bar mode is fully supported with the ability to customize interface elements to your liking. Fonts are now thinner in the menu bar. The dropdown windows for various iStat items can be dark or light. I obviously went with the dark mode and it looks so good that I now have almost everything toggled on just to quickly glance at what's happening inside the Mac. Some dropdown items also have toggles so you can now turn wifi off from within the iStat network dropdown. I use Bartender and found myself throwing most non iStat menu bar items out of my menu bar after properly configuring iStat Menus 5 to my liking. There are so many small things in the interface that I love. On launching the app, all switches that were toggled on automatically go from off to on and get a nice tick on them. I love how this resembles a machine turning on. The iStat app lets you configure the look and feel and has a continuous animation telling you how to move menu bar items around. There's an option to have all monitors displayed in a compbined dropdown as well if you really like going minimal on your menu bar items. Overall iStat Menus 5 is a worthy upgrade if you own previous versions of the app.
There's a plethora of new additions to the app in terms of monitoring including per app disk activity, support for compressed memory and per app upload statistics. iStat Menus 5 will not be leaving my menu bar. I can't say I'm really shocked at how good it looks but it continues to impress me the more I use it. If you already own iStat Menus 3 or 4, the upgrade price is $9.99. As a standalone application, iStat Menus 5 is available directly from Bjango here for $16.