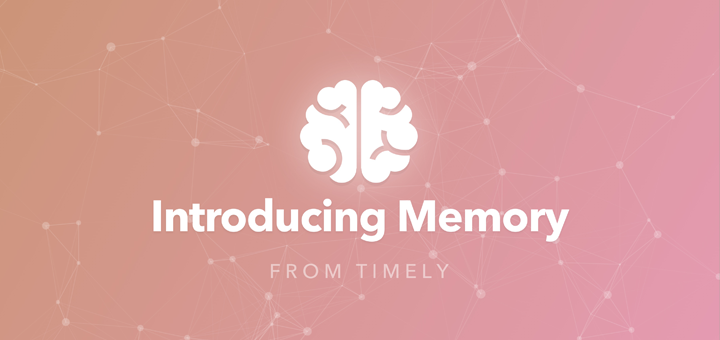 Timely is a brilliant, elegant and beautifully crafted time-tracking service that's designed for freelance individuals, teams and even big companies. We first featured Timely here on Beautiful Pixels back in December 2013 and since then, the service has vastly improved its feature set. It underwent a complete redesign a couple of months ago and the iOS app too has undergone massive changes and improvements. If I were a full-time freelance web-developer, this is what I'd be using, especially after the recent launch of the Memory feature and Mac app.
The most cumbersome part of using a time-tracking service or an app, is the time-tracking task itself. Although several apps and services have tried to simplify the process, it still remains a task that nobody enjoys. I don't have to invoice clients by the hour, so I rarely use those features, but I do enjoy apps like RescueTime (via Gyroscope) and Qbserve that tell me what I've spent my time working on or doing. With Memory, Timely has introduced the ability to track how you spend your time and view a timeline of your activity through the day.
Timely does this via the Memory Tracker Mac app. It's a tiny menubar utility that just sits there taking notes about what you're doing, and reports that to your Timely account. Everything that Memory Tracker tracks is private and visible only to you. Your colleagues, your bosses or teammates cannot see this data.
The activity tracked by the Memory Tracker app is very detailed, so you don't just see the apps you've spent your time using, but also what URL you were on or what name of the file you were working on. This makes it super easy to classify your time spent into projects, and Timely makes it even easier by letting you just select the block and log those hours to a project with a few clicks.
Optionally, you can also pipe in data from Moves (the location activity tracking app now owned by Facebook), Google Calendar or Office 365.
If you take time-tracking seriously, you owe it to yourself to give Memory by Timely a try. It's a fantastic way to glance at what you've spent your time on, and then log those hours towards your projects.
Timely offers a Free account for individuals that's limited to 5 active projects. You can upgrade to a Professional account that offers Unlimited Projects, Unlimited Clients, and other advanced features for $14/month.
The Memory Tracker app is currently only available for Mac, and a Windows app is currently in development.